Bonham's listed an interesting rifle in their recent catalogue. It was a Mauser action by David Lloyd in .25-06 (Rem), estimated at £700-£1,000. This, once famous, name in custom rifle building is perhaps lost to the modern generation but David Lloyd was a big deal in his prime.
He made his name as a builder of rifles for stalking. More specifically, he wanted to create a rifle that could absorb the abuses of the hill, challenging terrain and inhospitable climate, yet remain reliably zeroed and accurate when the time came to pull the trigger.
Lloyd was born in 1910 and died in 1996. He served as a pilot in the Royal Flying Corps during the First World War and was a life-long student of rifles and rifle shooting. As a stalker, he is credited with over five thousand deer and he competed successfully at Bisley as a target shooter.

His frustration with the poor quality of mounts and telescopic sights generally available motivated him to re-think the entire concept of scope, mounts and rifle. He determined to design his combinations to be 'as one', rather than bits of disparate kit stuck together.
He formed his company in 1936 and became highly influential among rifle builders. His rifles share several characteristics but the most obvious is the patented 'scope mounting system. This sheathes the front and back of the 'scope and affixes it solidly, low to the action. For this, he lodged British Patent 646419 in 1949.
The rifles were built so as to be zeroed at a given range with the exact cartridge (including make and bullet weight) the client specified. Once set, the scope (he always specified the best 'scopes of the day) was, to all intents and purposes, fixed and need not be adjusted again. Elevation and windage turrets were removed and shrouded.
So strong is the mounting system that the 'scope is un-likely to be knocked out of true during use. 'Scopes are usually four or six power because Lloyd wanted to mount the 'scope as close to the barrel as possible. This solid-fixed, low-profile 'scope arrangement is at the heart of the David Lloyd concept.
The rifles were generally built on Mauser '98 actions, which are proven beyond doubt in the field. Like every other custom rifle maker of the twentieth century, the most common source of Lloyd's early actions was military contract Mausers, cannibalised and converted to sporting use.
These had to be customised to adapt to the high-velocity cartridges he favoured. He also tended towards longer barrels than many rifle builders of today favour, with 28" being common, though this .25-.06 has a 24" barrel. Another signature feature is the big, dog-leg bolt handle.
Some later rifles used Sako actions (there are thought to be six of this model, all in .243).
A typical David Lloyd stock profile is more 'modern' than something like a Rigby Mauser. It is almost wedge-shaped from trigger guard to the ebony or horn end-cap, with a full pistol grip and a Monte-Carlo comb and cheek piece. This .25-.06 rifle has a ventilated rubber recoil pad, which was also common.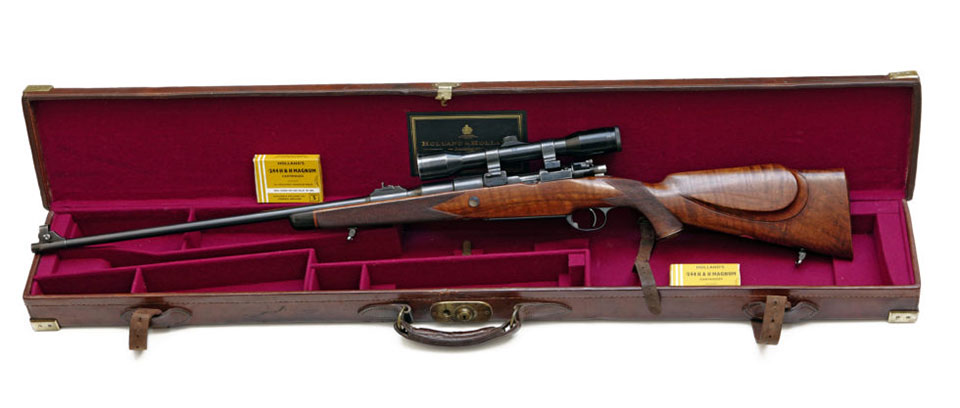 The quality of wood Lloyd chose was usually very good, with dramatic depth of colour and figure. This example is true to that, with a strong, but very attractive, walnut stock and a horn forend cap. It is mounted with a Swarovski Tirol, Habicht 4 'scope.
As well as being engraved with David Lloyd's address, 'Pipewell' and the calibre '25/06', it also reads 'Rebuilt by T.T. Proctor'. Proctor, now retired, also specialised in custom rifles with fixed 'scope mounts, so would have been a natural choice to work on this rifle. 8lbs is a common weight for David Lloyd rifles and this one is exactly that.
Along with his plan for a stable shooting platform, Lloyd wanted a cartridge and bullet combination that was flat-shooting and which would expend all its energy in the quarry to achieve clean kills. He had long experience of stalking in Sutherland, where strong cross-winds and the need to take long shots demanded a fast, fairly small bullet.
To this end, in tandem with Holland & Holland, he developed what was to become the .244 Holland & Holland Magnum, which is a necked-down .375 H&H Magnum case with a 100-grain copper-tipped bullet travelling at 3,500 fps. It was released onto the market in 1954. Holland & Holland paid Lloyd £250 to cover development costs.
Following this fruitful collaboration between the two parties on the development of the .244 H&H Magnum, Holland & Holland thereafter supplied the barrelled actions to David Lloyd, on which he built his rifles. Many were stocked by Wisemans of Cannock.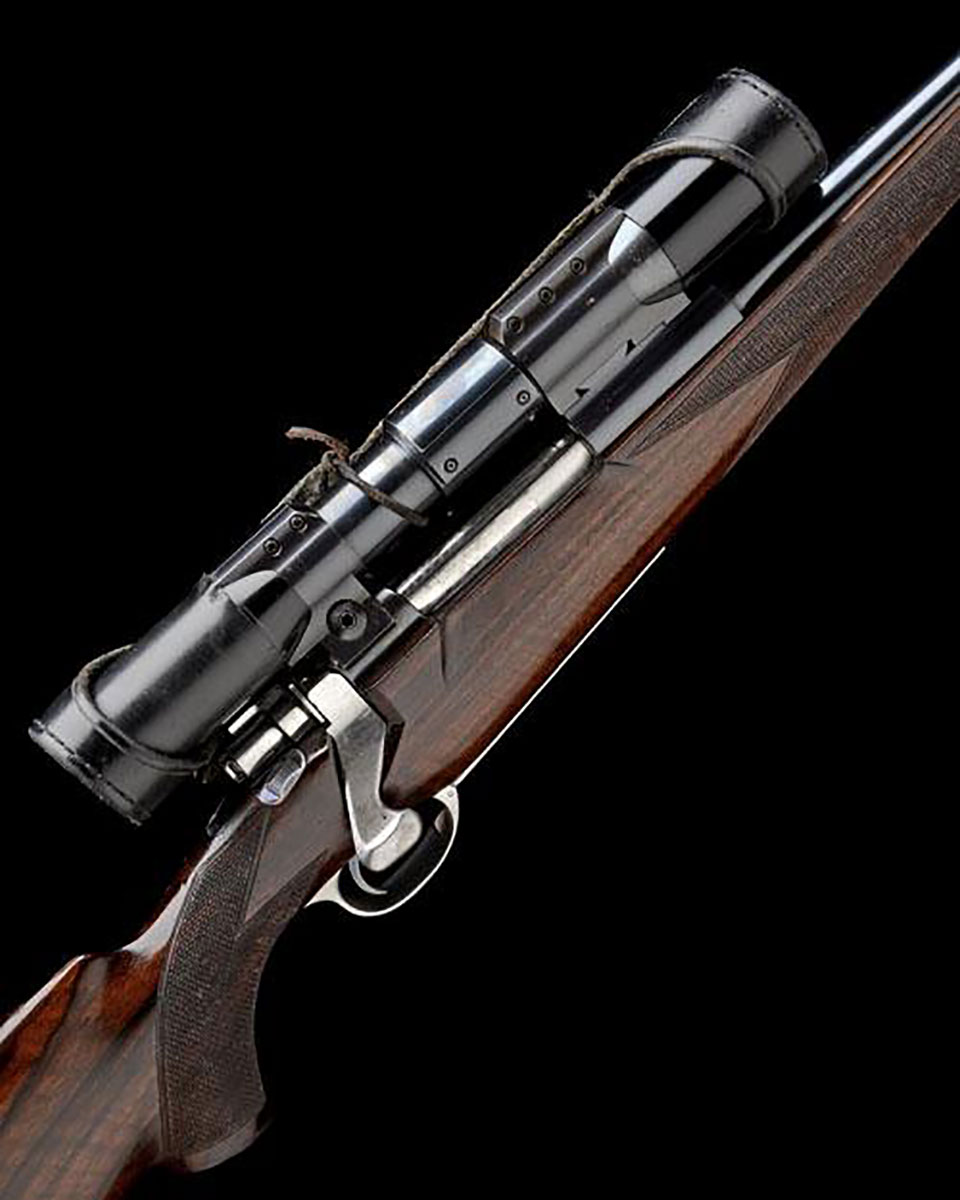 Later rifles reflected demand for popular modern calibres, with .243 being notable. In fact, eight part-built, Mauser-action .244 H&H calibre rifles were eventually brought out of storage and converted to .243.
In 2006, the name and goodwill of the company David Lloyd & Co. Riflemakers Ltd. was sold at auction, by Holt's and bought by ex-Rigby man Ron Wharton. In the decade between Lloyd's death and the auction, the company had continued to trade under David's wife Evadne, then being sold to John Shirley in 2003, when she died. Ron adapted the design of the 'scope mounts to suit modern 'scopes.
The .25-.06 on sale at Bonham's with its reserve of £700 compares favourably with other David Lloyd rifles for sale in the trade, where prices range from £1,600 to £3,000.
The problem with buying a David Lloyd rifle today is that unless you know exactly what factory load it was built for and can still buy it, you won't know if it will shoot to zero or group acceptably until you try it. If it doesn't, adjusting the zero is going to require professional help, which could be expensive, so will changing the 'scope if you need to.
As someone with a soft spot for British custom rifles, I like the wares of the likes of David Lloyd and TT. Proctor, who lack the 'bling' of a London address and centuries of history but whose work is worth investigating and, if bought with care, can represent very good value indeed. I currently have a Proctor as my personal stalking rifle and I wouldn't be surprised if, at some point in time, I add a David Lloyd rifle to my cabinet.
Published by Vintage Guns Ltd on (modified )