Here at the Vintage Gun Journal we are great believers in using quality kit as it was intended. That means we shoot our best guns and take them out in the winter weather, use them, clean them, put them away.
We feel there is little point owning high quality guns and shooting a cheap one just because you are afraid to get the good ones dirty. The beauty of good mechanical implements is the way they work so well in adversity yet remain sublime in form and function.
I was tempted to get something a little more disposable for days when I'm really getting down and dirty.
Mechanical watches, much like guns, serve to look good, perform well and resist the the rigours of a lifetime of use. My own watch of choice is a Rolex Submariner no-date, which I wear on a leather strap. However, I was tempted to get something a little more disposable for days when I'm really getting down and dirty - pointing walls, fixing pheasant pens or generally getting battered and filthy.
The back-up watch I picked-up is a Baltic Aquascaphe in cream and black. It is a French assembled product, running a Miyota automatic 9039 movement and is very much in the vein of the Submariner, intended for hard wear and a bit of abuse.
It has a stainless steel case with a width of 39mm and a thickness of 12mm. The dial is protected by a double domed sapphire glass, while the movement is sealed with a water-tight, screw-down crown, achieving a water resistance of 200m depth. Once delivered, the Aquascaphe is covered by a two year warranty.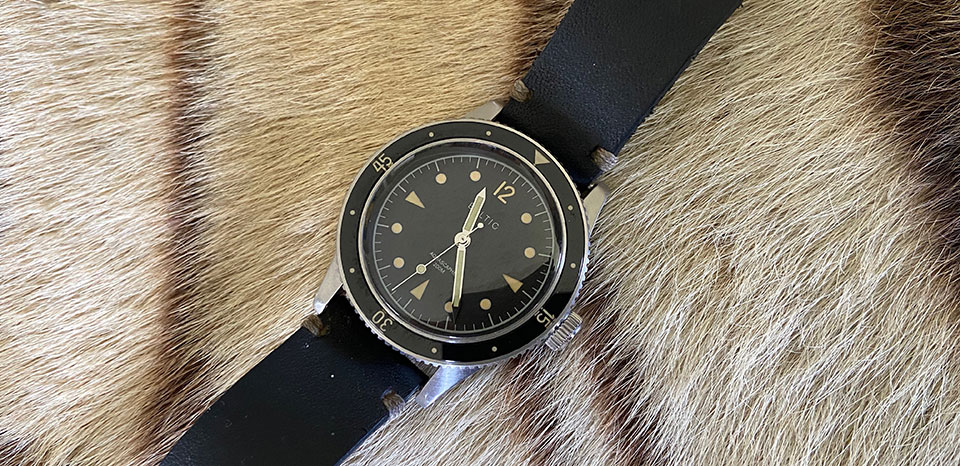 Strap options include a steel bracelet, or a 'tropic rubber' strap with buckle. Personally, I don't like bracelets, which made the cheaper choice of rubber strap an easy one. so equipped, it rang the till at €696, which was a bit over £500 plus VAT at the time. The rubber strap is OK, but not as nice as the one supplied with the Oris diver's watch I bought for my nephew recently. However, that cost over twice as much, so one should expect it to have a better strap.
I quickly swapped-out the strap for a wide leather Zulu semi-NATO model, which is comfortable and rugged, fitting the watch's intended use as a 'beater'. First impressions on the wrist are 'easy'. You quickly forget you are wearing it.
I wear my watches tight, so they don't slide up and down or flop about on my wrist. Not the kind of thing that helps when bringing a rifle to bear or swinging a shotgun in short sleeves, not to mention carrying feed bags or pheasant crates around. The Baltic is just right in proportion to wear this way.
...the faded yellow hour markers, intended to resemble an old Submariner with a 'tropical' dial.
The dial is easy to read, with the faded yellow hour markers intended to resemble an old Submariner with a 'tropical' dial. The second hand sweeps nicely and the precision of the hour and minute hand machining and applied night-grow paint is excellent. The dial is a matted black, with cut-out triangles at three, six and nine, revealing the under-paint . This is a cleaner way of achieving the same result than trying to apply a precise triangle of paint. The uni-directional bezel has a precise 'click' and the coating is hard wearing and attractive.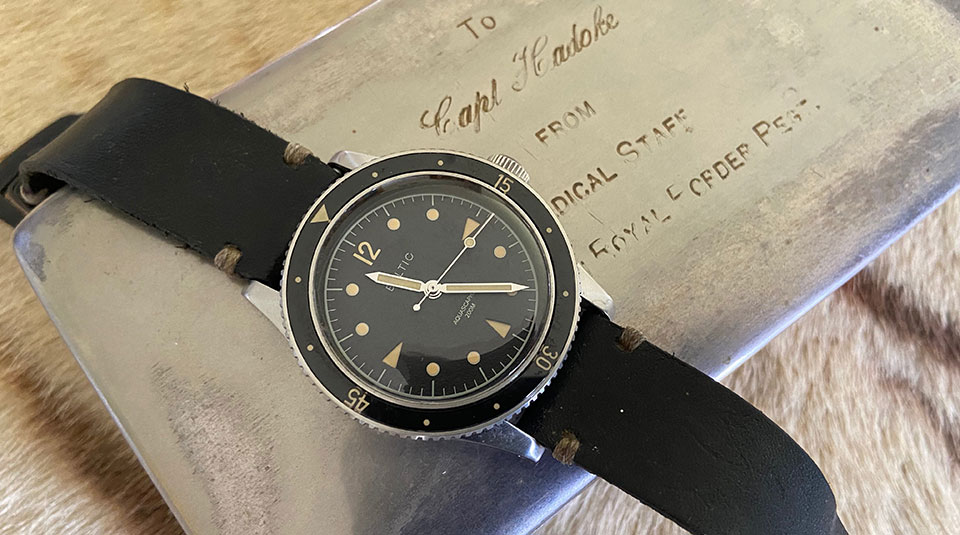 The case is well made and polished, with a diver engraved on the case back. It all looks and feels quality. The lugs for the strap are Rolex standard 20mm. Overall, like many of these homage watches, the vibe is 1960s and seventies, but the Baltic is ore akin to a vintage Blancpain than a Rolex Submariner, which is refreshing. I'd love a Blancpain Fifty Fathoms, but they cost over twelve thousand pounds!
The 39mm case size is unlike the current fashion for huge 'bling' type time-pieces beloved of footballers and TV chefs but as a practical watch to be worn at work by someone getting elbow-deep in a gralloch and washing it off in a peaty stream, it is far more useful. It fits easily under a standard cuff, so it can be kept out of the way when desired and weighs little enough so as to be forgotten.
Six months in, how do I rate the five hundred pound Baltic Aquascaphe? Honestly, I have to remember to take it off and wear my Rolex when I am not planning any building or shoot work. It keeps good time, has picked up no discernible scratches or dents. The steel has not tarnished and it has seemingly grown onto my wrist. It is a very good watch for the money. In fact, I'd say it is a very good watch; full stop.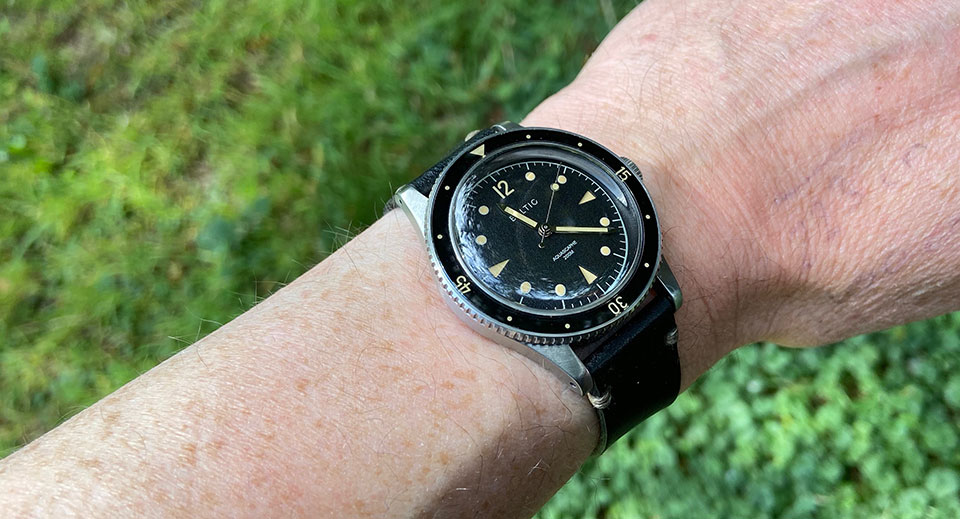 Published by Vintage Guns Ltd on