I suspect that most of my readers consider gun-making a masculine endeavor. Not so fast, dear reader.
In a published list of occupations in England in 1841, out of 4,868 gunmakers, 79 were women. In addition, out of the 79 gun implement makers, there were three women. This article is about Ann Patrick, an early woman gunmaker, and a percussion double gun from her shop.
There were three gunmakers in the Patrick family: Jeremiah Patrick, Ann's father; Edward Patrick, Ann's brother; and Ann. Jeremiah Patrick, is first recorded as a gunmaker at 36 Lombard Street, Liverpool in 1795-98, at 47 Oldhall St., 1799-1803, and at 44 Strand Street, 1804-1814. Edward managed the business from 1815 until 1820.
Edward likely inherited the business upon his father's death, as Jeremiah would have been well into his eighties by 1814. A major fire took place in 1817 damaging the Patrick's warehouse at the Old Dock. This may have contributed to Edward going bankrupt in 1820. Daughter Ann, took over the business in 1820.
Contemporary newspaper advertisements of Patrick guns describe them as "capital" and "excellent." Carey's book, English, Irish and Scottish Firearms Makers writes as follows: "Patrick [1800-1820] Made double barrel, over and under flintlock pocket pistols and cased, saw-handled flintlock dueling pistols of fine workmanship".
Patrick's reputation as a builder of fine firearms was clearly established prior to Ann's assuming control in 1820. The fact that the Patricks' were building dueling pistols would also indicate that their clientele were of the gentile class and trusted the Patricks' work.
Ann Patrick was born in 1756, probably in Liverpool. We know that she was working with her father as early as 1800. The 1833 death notice of "Mr. Peter Kelshaw, gunmaker… assistant to the late Ann Patrick" (7), would indicate that Ann was actually performing bench work.
The Gun
The gun is a 20-gauge, percussion, side by side. It is marked "Patrick Liverpool" in gold, with lettering in Old English script on the rib (Figure 1).


The locks are not maker-signed (Figure 2). Barrel length is 36", of twist steel. The weight is a mere 6 ¼ pounds. Even with the long barrels, the gun balances perfectly 5 ¼ inches in front of the trigger-guard. The length-of-pull is 14 ¼", drop-at-toe is 2", and drop-at-heal is 2 ¾". The gun retains its original cleaning rod. The stock wood is unremarkable.
What is remarkable, however, are the gun's fittings. The gun's butt-plate, trigger-guard and lower tang are all sterling silver. To my knowledge, there are no existing Patrick records. Therefore, it is generally difficult to determine when a gun was made, and in the case of the Patricks' family, under which of the Patricks' tutelage the gun was actually built. It this case, however, the sterling mounts will help date the gun (Figure 2).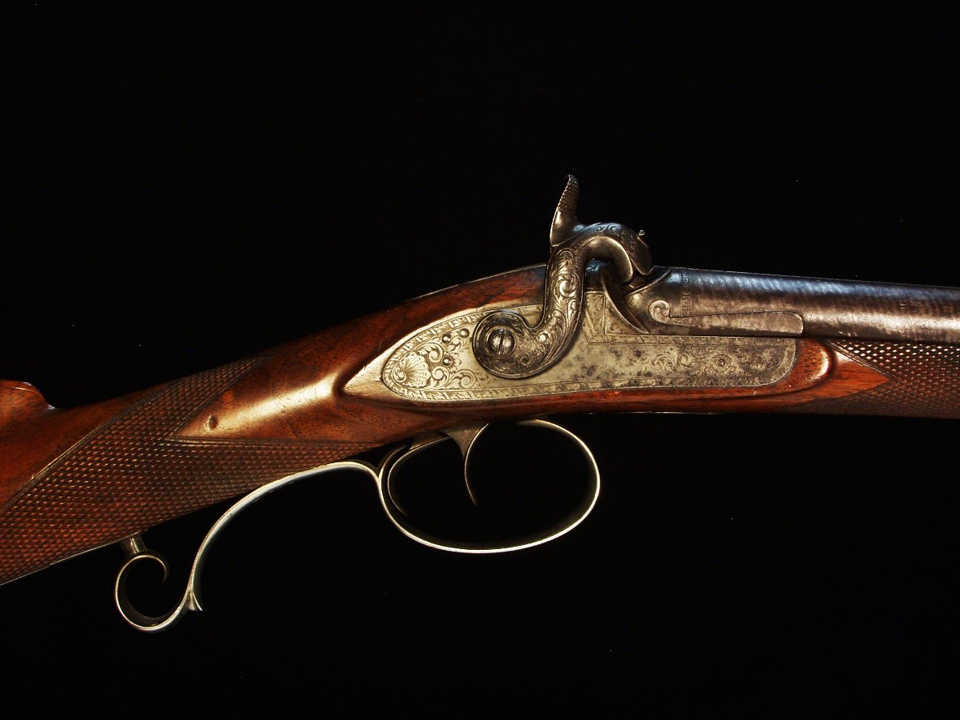 Under English law, silver items, over a certain size, must be marked as to the as to the date of manufacture, the silversmith who manufactured it, and to the level of purity (e.g., sterling). The hallmarks on the butt-plate tell us that it was made in 1828 or 1829 by Birmingham silversmith Thomas Pemberton and Son and is sterling silver (Figure 3).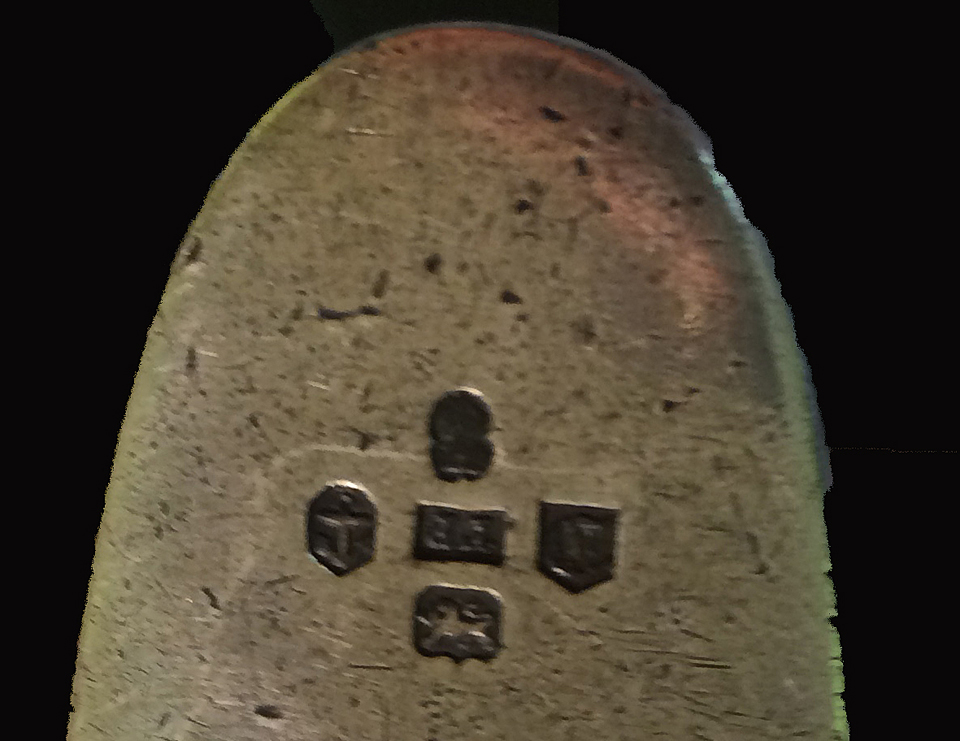 This gun was definitely made during Ann Patrick's tenure when her shop was located at 10 Pool Lane. Ann sells the company to Williams and Powell in 1830 (2). Therefore, the gun was made sometime in the last two years of the Ann Patrick's company's existence.
The locks and hammers are neatly engraved with fans and scrolls. It is the silver engraving where the engraver's skills shine, both figuratively and literally. The beautifully sculped trigger-guard is engraved with a whimsical hunting scene of two dogs and two game birds hiding. The first dog has passed the birds and is looking back as if to say, woops, missed that one, while the second dog is lying in wait (Figure 4).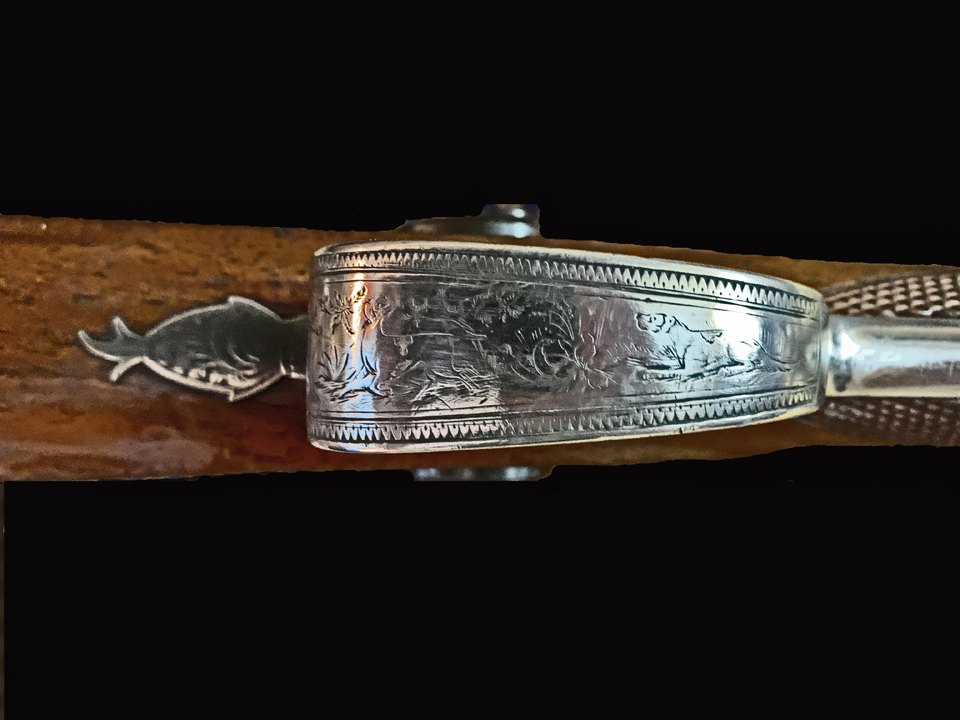 The front of the trigger-guard tang is urn shaped and filled with engraved leafy c-scroll work. The back ring of the trigger-guard and butt-plate tang are engraved with a bird and a dog respectively, each surrounded with leafy c-scroll work. Clearly, this gun was made for a wealthy client.
The Rest of the Story
I discovered a signature on stock when I disassembled the gun for cleaning. The signature read "P. Bouron". A quick query of the name on the Internet, revealed that P. Bouron was a gunmaker in New Orleans, active 1866 to 1875. His two sons, Louis L. and Phillip George, continuing in his shop at least until 1881.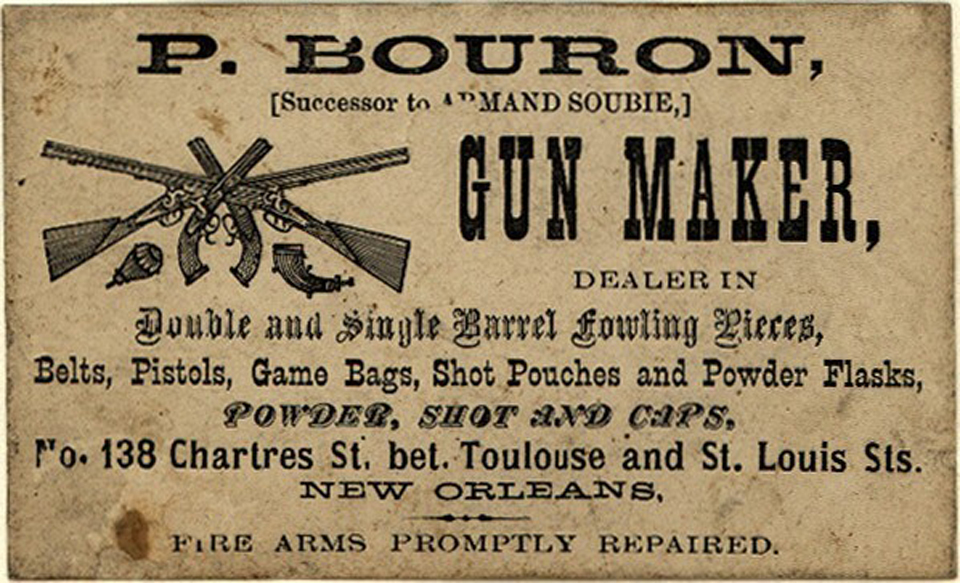 It is impossible to ascertain whether P. Bouron owned the gun or worked on it (I suspect the latter), but we do know that the gun was in the United States for well over 120 years.
It would be fascinating to know how and when the gun arrived in the U.S. In 1830, New Orleans would have primarily been occupied by French emigrants. P. Bouron being one of them. What is a silver-mounted shotgun from Liverpool doing in a French area of the U.S.? I guess we will never know.
Kirk Lubbes.
NOTES
Carlisle Journal – Saturday, 30 November 1844
British Gunmakers, Volume Two – Birmingham, Scotland & The Regions by Nigel Brown; Quiller Publishing, 2008, page 303
Liverpool Mercury – Friday 12 September 1817
Liverpool Mercury – Friday 21 January 1820
English, Irish and Scottish Firearms by A. Merwyn Carey; Thomas Y. Crowell Company: 1954.
Liverpool Mercury – Friday, 21 September 1832
Liverpool Mercury – Friday 17 May 1833
Database of USA Gunmakers (earmi.it)
Published by Vintage Guns Ltd on