Some legends just refuse to die. The legend of Jim Corbett seems to be one of them.
Born, in 1875, into an impoverished Irish-Indian family (expatriate Irish living in the Raj) and one of fifteen children, Jim grew up barefoot in the jungles of Kumaon, in the United Provinces (today it is in the state of Uttarakhand). He grew up learning to move silently in the forests, to mimic the birds and animal that lived there, and how to track and hunt. He shot his first leopard at the age of ten.
Jim lived the life of a mild-mannered railway clerk. This was a relatively low-status and unglamorous job, with few trappings. His life was quite austere and his surroundings basic. Though he inherited ten acres in Kaladungi and a summer house at Nainital, he lived simply and often hared the deprivations of his workers when supplies were short.
In a strictly class-driven society, dominated by soldiers, diplomats and colonial officials, Jim ranked pretty low in the order. However, he came to mix with the highest echelons of the administration, by whom he was in turn asked for help, feted and revered.
Jim was unknown outside India until persuaded in 1940, to write about his exploits. He then wrote, and had published, Maneaters of Kumaon; the chronicles of his adventures slaying the man-eating tigers and leopards that had terrorised remotely-located villagers in the forests of northern India during the previous four decades. The book has never been out of print. It made Jim Corbett financially comfortable and world-famous in the autumn of his life.
Not a man of great means, at least for the majority of his life, Jim hunted with a variety of rifles and shotguns. Few of which, it appears he bought new.
The first weapon he owned was a dangerous muzzle-loading shotgun, with the right barrel rendered useless due to a burst from being over-loaded. The stock was broken and repaired. Jim hunted using the left barrel only.
At the age of ten, Jim joined the Nainital Volunteer Rifles and learned to shoot the .450 Martini carbine. Not exactly ideal for a small boy, but Jim showed enough promise and dedication to elicit the loan of a .450 muzzle-loading rifle from the sergeant-major.
With this rifle he shot his first leopard; a chest shot from about fifteen feet away. The leopard was not killed immediately, jumping over Jim and taking refuge behind a rock on the hillside. Jim stalked him until close enough to finish the wounded animal with a second shot to the head.
Corbett's main double rifle was a .450-400 by W.J. Jeffery. This chambering was the most popular of double rifle rounds at the turn of the 20th century. It was outlawed for civilian use in India in 1907 for reasons of internal security, leading to the success of the .470, which was permitted, but very similar in performance.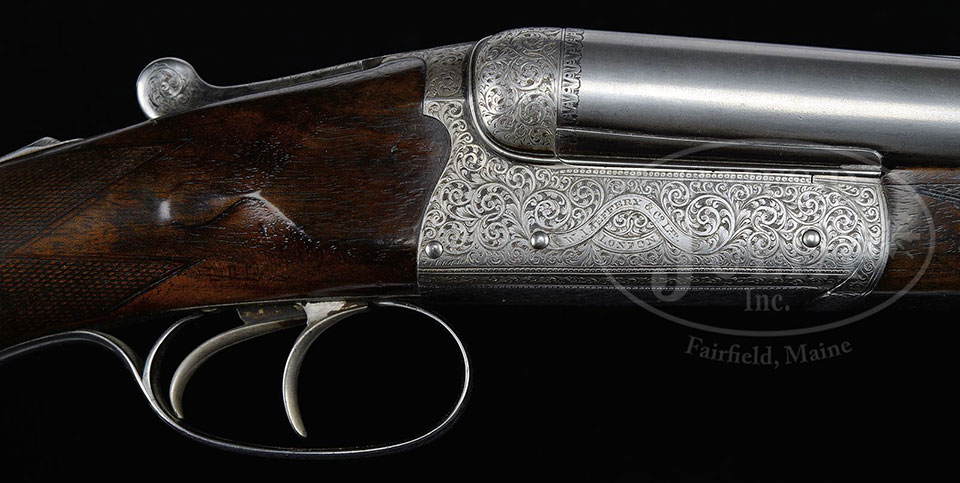 It is a powerful cartridge capable of killing any of the Big Five and would have been a reassuring rifle for tiger hunting at close range, pushing its 400 grain cordite-propelled bullet at 2,150 fps and delivering 4,110 ft/lbs of kinetic energy. For tiger hunting, Jim would have used soft-nosed bullets.
Although Jim's Jeffery is leaf-sighted to 500 yards, it would rarely if ever be used in anger at much beyond 100. After Jim's retirement, the renowned American gun writer Elmer Keith owned it. It is now in a private collection in Alabama. The distinctive shape of the boxlock action indicates that it was probably built for Jeffery (who was a retailer not a manufacturer) by Birmingham gun-maker Daniel Leonard.
In many of Jim's stories he refers to the 'big .500 bullet' and a 'modified rifle', by which I think he means a black powder express rifle re-chambered and proofed for 'Modified Cordite'. This was a version of Cordite with lower pressures, a kind of 'nitro-for-black' load in modern parlance. On one occasion, Jim hit his tiger with two shots, failing to kill her, finally engaging with a 'lethal bullet' loaded 12-bore shotgun.
Jim's killing of the 'Champawat Man-eating Tiger' in 1907 led to the presentation of a Rigby .275 (7x57) bolt action rifle to him by a grateful administration. With this he killed several man-eaters, including the Ruraprayag Leopard.
The .275 Rigby-Mauser was a state-of-the-art, medium bolt-action rifle in its day and Jim's rifle now resides in Rigby's London collection, where it can be seen by visitors today.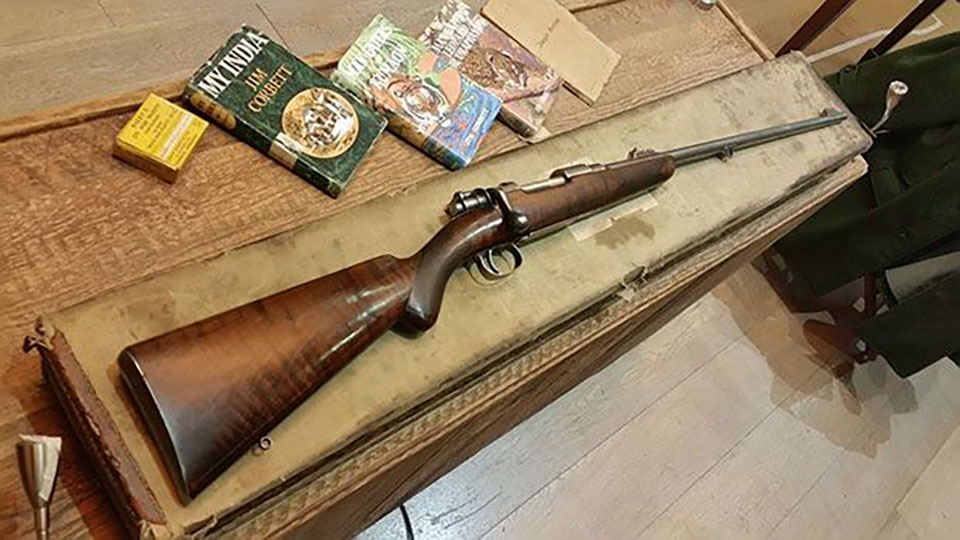 Rigby made a Corbett commemorative .275 in 2015, engraved with scenes from Jim's books, illustrated by Raymond Sheppard. This was auctioned for Safari Club International and achieved a record price for a bolt action rifle at the time, of $250,000.
One rifle Jim did buy new, from Manton in Calcutta, was a .275 Westley Richards. It was this rifle he first used while in search of the 'Temple Tiger'. He would have used his heavy double for this kind of close-range work but did not have it with him as he climbed the oak tree in which he planned to spend the night, awaiting the arrival of the tiger.
Having never used the Westley Richards before, he overlooked the two-stage 'set' trigger it sported, when he pulled the trigger with the tiger only five feet distant, it failed to fire, Jim thought he had shut the bolt on an empty magazine and hurriedly worked the bolt but the tiger was gone in a flash. A lesson to us all that no matter how experienced, we need to familiarise ourselves thoroughly with any new rifle before taking it out to hunt.
Westley Richards as Mauser agents from 1898 until 1903, sold Mauser rifles, carbines and pistols to most of the British gun trade, including Rigby...
Looking at Westley Richards catalogues of the time (the 1912 version is the closest) the model he used was a .275 Mauser, (built by Westley Richards using Mauser actions) available in best quality at £25 or in lower qualities gradiating downwards in price. The set trigger, refered to as a 'hair trigger' is an option at 20 shillings cost. Incidentally, Westley Richards as Mauser agents from 1898 until 1903, sold Mauser rifles, carbines and pistols to most of the British gun trade, including Rigby, Woodward, Greener, Holland & Holland and Boss.
A full list of Corbett's rifles, used over the duration of his hunting career include: his double barrelled childhood muzzle-loader, with burst barrel and wired-together stock, his .577/450 Martini-Henry Volunteer rifle, a borrowed .450 muzzle loader, his .275 Westley Richards with set-trigger, a .500 'modified' double rifle, his .450/.400 NE Jeffery and a borrowed 12-bore shotgun, loaded with 'Kynoch Lethal Ball'.
With this battery, Corbett killed over thirty tigers and leopards, thereby saving tens of thousands of villagers from the fear of being eaten every time they went to fetch water or collect firewood. Some of these individual man-eaters killed several hundred people over a period of many years.
Jim killed his last man-eater at the age of seventy-one and retired to Kenya, where he hosted Princess Elizabeth and Prince Philip, at Tall Trees, the night before she was informed of the death of the King and her ascendence to the status of monarch.
A new biography of Jim Corbett, by Duff Hart-Davis, has just been published by Merlin Unwin books and makes a superb job of un-packing and commenting on the important episodes in the life of one of our sport's most enduring heroes. I just treated myself to a copy and I'd recommend it to anyone, familiar or unfamiliar with his exploits, as a refreshing re-boot, making clear an often muddied history.
Published by Vintage Guns Ltd on (modified )