Born to the Langley Park Manor and knowing its privileges, Robert Grenville Harvey was never content to remain at the manor.
His youth was spent exploring the forests and fields of Langley Park Estate, hunting its varied wildlife, from grouse to stag. His wider travels began with an extensive big game shooting trip in India's Western Ghat Range in 1879.
His uncle, Sir Richard Grenville, 3rd Duke of Buckingham and Governor, (1875-1880) of Madras Province, provided a base and wise advice for that trip, then left the young man to his own devices. The Ghats initiated a life of world travel, with Robert G. interested in all aspects of the regions he visited.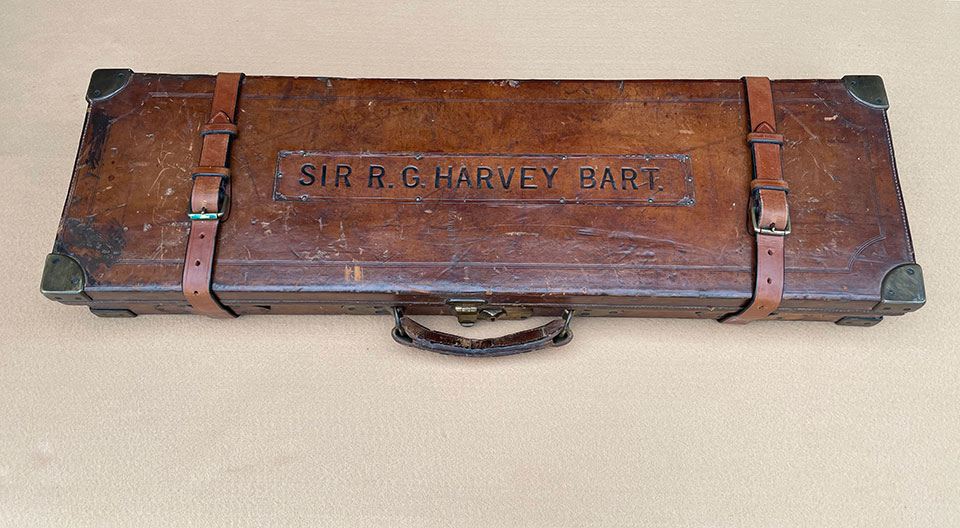 For each of the next six years he travelled throughout India, then visited Zanzibar and Mombasa on the east coast of Africa during return trips to Langley Park. East Africa and its big game fascinated Robert G. Though discouraged by colonial officials, he collected information for an expedition into the East African interior.
He gained a wealth of information from Livingston's former assistant John Kirk, Consul General at Zanzibar, then spent the winter 1885-86 planning an extended shooting expedition into East Africa. Accompanied by his English neighbor John Willoughby, his brother Charles, and naturalist H. C. V. Hunter, Robert G. sailed for East Africa in November, 1886. Explorer Joseph Thomson's Through Masai Land (1885) provided helpful information for the expedition, and Thomson's assistant, James Martin, was employed by Robert G. to oversee the 300 porters required for a trek of this scope. (1)
The expedition left Mombasa in early December, 1886, trekked across the bush south of the Tsavo River, then around the lower edge of the Ndara Range and on to a base camp at Taveta 230 miles west of Mombasa. They spent four months hunting and exploring the game fields from Taveta to Kilimanjaro before returning to the coast and taking passage to England in late April 1887.
During the expedition, naturalist H. C. V. Hunter made extensive notes of game encountered from Mombasa to Kilimanjaro. Willoughby, using his diary, Hunter's notes, and Robert G's observations, produced East Africa and Its Big Game in 1889. The book sold well, provided an excellent introduction to the game fields of East Africa, and became a guide for early hunting trips into East Africa.
Explorer Joseph Thomson's Through Masai Land (1885) provided helpful information...
Willoughby was the author, but he credited Robert G. as the leader of the expedition and included a postscript by Robert G. detailing his explorations around Kilimanjaro and the Tana River the following year. Robert G's postscript reflects an observant eye and an ability to engage other cultures with respect and dignity. (2)
One month before the end of the 1886-87 Kilimanjaro expedition Robert G's father, Sir Robert Bateson Harvey, died after contracting bronchitis while salmon fishing in Scotland. On his return to Langley Park in early May 1887 Robert G. inherited the baronetcy at Langley Park, with its 11,000 acres of farmland in the Colne Valley surrounding Langley Park and in County Antrim, Northern Ireland.
With youth on his side and the title "Sir," Robert G. led a strenuous life in the late Victorian era, managing the Langley Park lands, leading local agriculture associations, and continuing his travels in India and East Africa. As a result of his travel and observations, Sir Robert G. became a later day Renaissance Man, an informed conversant on a wide range of topics from horticulture to art, from antiques to zoology.
His work on the gardens at Langley Park indicates his ability to visualize and bring proportion and harmony to his many activities. (3)
Struck hard by the late 19th century English agricultural depression, Sir Robert G. maintained the economy of his estate by selling Irish holdings to tenant farmers who could best arrange agricultural production to suit each area's needs. He also shifted production on Langley Park Estate land from grains to livestock and orchard produce.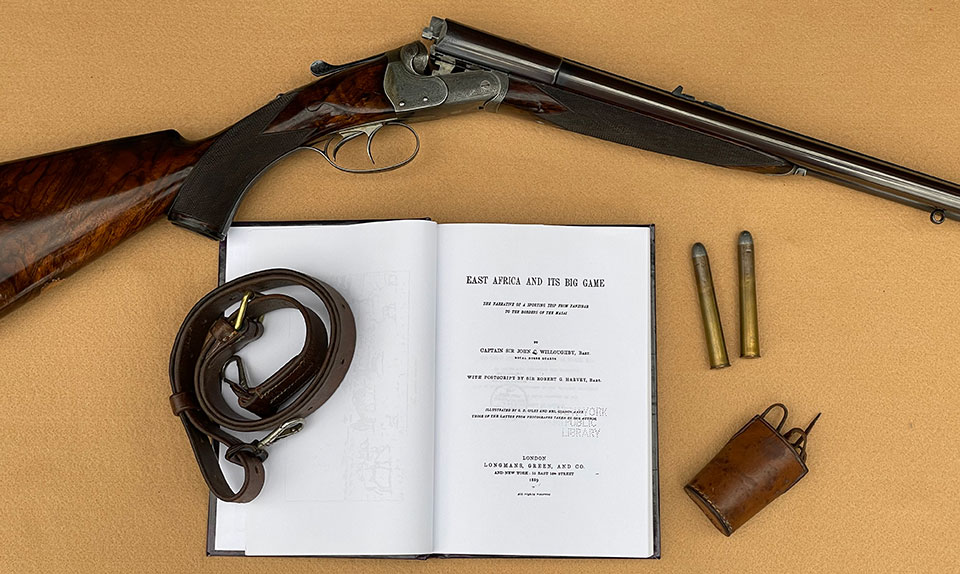 His cattle and fresh fruit found a ready market in burgeoning nearby London. By the late 1890's he had managed to secure the economy of Langley Park and the estate farms, while continuing his travels. Sir Robert G. organized and led a second expedition through East Africa as far as Kimengelia, beyond Kilimanjaro in 1888, went on shikar with Martyn Kennard and Lord Hawke, the cricketeer, through Kashmir to the base of the Himalayas in 1892, and made shooting trips to moor leases around Inverness and Rannoch/Perthshire, Scotland between 1889 and 1897.
While his activity on the Langley Park Estates and his travels left little time for writing, Sir Robert G. was well known for his explorations in India and Africa. His big game trophies were exhibited at expositions and in the Kensington Natural History Museum. Cogswell and Harrison asked him to evaluate and endorse their new 20 bore ejector gun and Kelor "Vicmos" shotshells. (4)
Sir Robert G's marriage to Emily Blanche Murray in 1893 was perhaps ordained by conservative political alliances between the English Harvey and Grenville families of Buckinghamshire and the Scottish Murray and Graham-Montgomery families of Peebleshire. Sir Robert G's father, Sir Robert Bateson Harvey and Sir Graham Graham Montgomery, Emily Blanche Murray's neighbor and relative, were conservative Members of Parliament along with Sir Richard Grenville 3rd Duke of Buckingham during the 1860s, 70s, and 80's.
Moreover, Sir Richard Grenville, 3rd Duke of Buckingham, was first married to Sir Robert Bateson Harvey's sister, Caroline in 1851. After Caroline's death Sir Richard married Sir Graham Graham Montgomery's daughter, Alice Anne, in 1885. Political alliance and kinship relations brought the Harveys, Grenvilles, Graham Montgomerys, and Murrays into a close social circle. (5)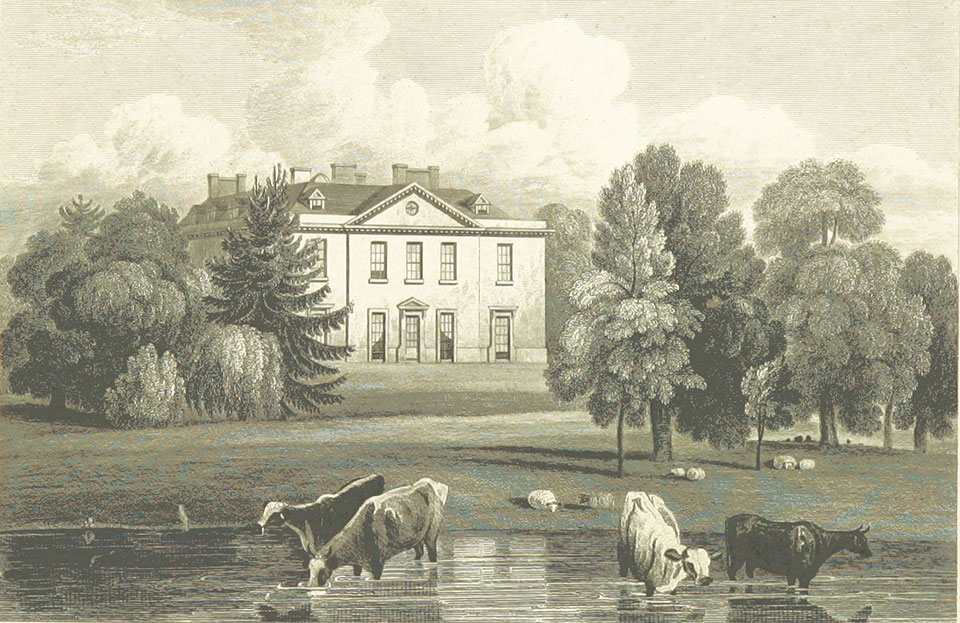 Sir Robert G's. travels to Scotland's grouse moors, passing through Edinburgh on the Eastern Rail and spending country weekends on the Graham Montgomery's Peebleshire estate, provided him occasion to meet Emily Blanche Murray within the Montgomery-Murray family circle. Sir Robert G. fell under the spell of the Scottish lady and the wedding of Sir Robert G. and Emily Blanche on April 29, 1893 was done in "Scottish Style" at St. Peter's Church, Eaton Square, London. The bride's mother, Lady Blanche Alice Scott Murray, hosted the reception, at Sir Graham Graham-Montgomery's London Grosvenor residence. (6)
On their trips to the Scottish grouse moors Sir Robert G. and Lady Blanche could stop in Edinburgh to visit the Montgomerys and Murrays in nearby Peebleshire. Through this Scottish connection Sir Robert G. became acquainted with the work of Edinburgh gunmaker Daniel Fraser, admiring the very distinctive proportions and harmony Fraser brought to the gunmaker's art. Major firearms changes of the late 1890's formed the backdrop for Sir Robert G's purchase of a Daniel Frazer double rifle in the new .450 nitro express cartridge.
Having spent twenty years hunting dangerous game with black powder express rifles, Sir Robert G. had experience and taste in his choice of firearms. His trips to Africa and India utilized a battery of 8 bore, .577, and .450 BPE double rifles made in London, possibly by Cogswell and Harrison. When the .450 NE replaced all previous black powder rifles Sir Robert G. probably made the switch as fast as the next express from London to the Edinburgh station, then a brief walk around the corner to Daniel Fraser's shop at 4 Leith Terrace. (7)
Although precise dating of Fraser double rifles can be difficult, even with J. G. Kirton's work on Fraser at hand, the slightly rounded rear of the action and the barrels with side clips and diameter step down just ahead of the chambers on Sir Robert G's rifle indicate a date early in Fraser's production of nitro express rifles. The rifle is a first quality bespoke firearm exhibiting many features intrinsic to Fraser's Scottish sensibilities while displaying a true economy of form and function. The regulating wedge/rib recessed behind the muzzles, the full length file cut rib fitted with telescope bases of Fraser's design, gold washed lock work, a flush mounted rear sling eye, distinctive serpentine curve carved in the fences, and the delicate profuse engraving with Celtic rope border are all distinctive to Fraser.
As originally created the rifle was equipped with a stalking safety and a tang sight, two features Fraser routinely included on his rifles. Neither feature appealed to Sir Robert G. and his mode of hunting. Before it could leave a telltale mark between the tang detent holes, the stalking safety was removed, indicating Sir Robert G. intended to carry the rifle himself rather than handing it off to a gunbearer. The tang sight was also removed and the screw holes and tang sight relief cut in the comb were professionally filled, probably by Fraser before Sir Robert G. took possession of the rifle. (8)
The fitted oak and leather case with "Sir R. G. Harvey" embossed on the lid still contains a full complement of case accessories and the tang sight, but not the stalking safety. The rifle is well regulated and shoots to point of aim at 50 yards with full power .450 NE ammunition. A reduced load of Varget with a 350 grain jacketed bullet regulates and groups very well at the same range.
The rifle was completed and delivered to Sir Robert G. no later than 1904 and perhaps as early as 1899. Fraser's 1896 brochure advertising his proprietary "Velox" rifles and cartridges contains a line drawing of a double rifle similar to the rifle built for Sir Robert G. Proof marks on the barrel flats and bar flats indicate Sir Robert G's rifle was first proofed before 1904, then re-proofed for nitro after 1904 and reproofed a third time in 1991.
The rifle presents a slim profile, thanks to the straight taper .450NE chambers, the full length rib, a shorter than normal action and a barrel diameter step down just ahead of the chambers. That combination results in a balance point 3.5" ahead of the hinge pin. Stock dimensions of DOC 2.75", DAH 3.0", LOP 13.75" reinforce the rifle's graceful lines.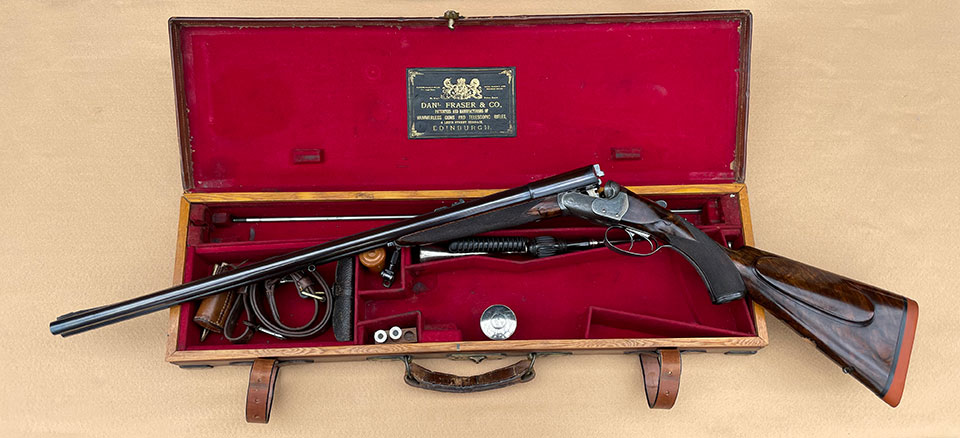 At 10lbs6oz the rifle has a pleasingly settled amount of muzzle weight and the sights are the customary express sights, bead front sight with flip-up ivory night sight and a very realistic rear sight with a standing blade for 100 yards and a flip up blade for 200 yards. Fraser's combination of breech, barrel, and stock dimensions give the rifle a look very distinct from Birmingham and London boxlock double rifles.
Sir Robert G.'s rifle is best described as a continuous flow of aesthetically pleasing proportions, distinguished, dignified, and deadly.
While its use is not documented in the various newspaper articles concerning Sir Robert G's travels after 1899, wear to the rifle and the exterior of the case indicate the Fraser .450NE accompanied him to Africa, India, Japan, Siberia, and possibly Newfoundland in the first decade of the 20th century.
Contemporary news articles describe Sir Robert G. as a "well known big game hunter." His trophies were displayed not only at Langley Park Manor, but also in the prestigious Kensington Museum of Natural History, and at the 1910 Vienna Shooting and Sport Exhibition. Sir Robert G. is also credited with the discovery of a previously "…undescribed species of hartebeest…" in the southern Sudan.
Of course, the 1907 ban on .450 ammunition in the Sudan and India made cartridge supply a bit difficult and WWI curtailed all travel. By the early 1920's Sir Robert G. was beyond the age of safari and shikar. His remaining years were spent perfecting the agriculture of his holdings, the wildlife of the main estate, and his rhododendron Temple Garden in Langley Park.
His journeys afield were confined to the grouse moors and salmon streams of Scotland until his untimely death in 1931. Sir Robert G. and Lady Blanche Harvey bore and raised three daughters. Without a male heir, the baronetcy of Langley Park ended with Sir Robert G's death. His wedding gift of a Mannlicher rifle to his daughter Caroline's husband indicates the hunting tradition continued in the family. In a Times published tribute Lt. Col, the Honorable Arthur Murray described his brother-in-law, Sir Robert G. Harvey "…as a man of remarkable mental and physical activity and of varied and cultured attainments." (9)
...news articles describe Sir Robert G. as a "well known big game hunter."
Tracing the provenance of Sir Robert G's Fraser rifle has proved impossible. The rifle may have remained in the possession of Sir Robert and Lady Emily's daughter, Diana, until her death in 1982, but this is not documented.
The barrel flats indicate a re-proof in London in 1991, possibly for export to the United States as the rifle came through the good services of Larkin and Moore. The rifle's continued existence in its well-preserved state with "Sir R. G. Harvey" embossed on the case lid, has revealed the life and times of an early English hunter in East Africa and India.
Before Delamere and Judd, before Roosevelt and the term "safari," and only a few years after Livingstone, Burton, and Stanley, Sir Robert G. stood at the end of the age of East African exploration and the beginning of East African shooting which would become the "safari."
Sir Robert G. mapped-out a major hunting ground of East Africa, opened its potential to the late Victorian Era, and returned to hunt East Africa with his Fraser .450NE. Langley Park remained within the Harvey family until 1935 when it was acquired by the Buckinghamshire County Council as a park dedicated to the history, flora, and fauna of the original estate.
Today the manor house at Langley Park is a beautiful Marriot Luxury Collection Hotel with much of the Langley Park Gardens well maintained for visitors, and perhaps the shade of Sir Robert and Lady Blanche walking in the gardens. (10)
by Robert Suder
Photographs: Ryan Ripperton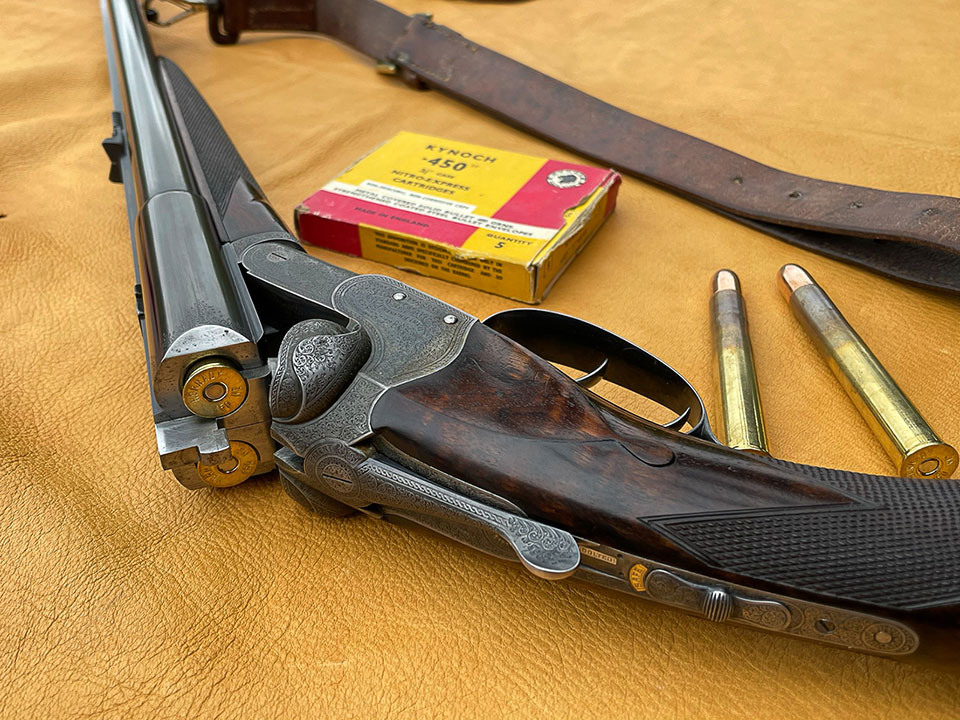 Sources.
Information on the life and adventures of Sir Robert Grenville Harvey is found mainly in the British Newspapers of his day made available through the British Newspaper Archive. In the following list of sources only a single news article is listed for each aspect of Sir Robert's life although the British Newspaper Archive usually lists many different newspaper sources for each aspect.
1. Thanet Advertiser 4/17/1931, p.4. Windsor and Eton Express 6/211884, p.2.
2. J. Willoughby, East Africa and Its Big Game: The Narrative of a Sporting Trip From Zanzibar to the Borders of the Masai. London: Longmans, Green and Co, 1889 (EABG). Sporting Gazette 11/30/1889, p.41; 2/15/1890, p.32.
3. London Evening Standard 3/25/1887, p.5. Sporting Gazette 3/26/1887, p.27.
4. Belfast News-Letter 2/24/1891, p. 6; 4/11/1892, p.5. Baleymena Observer 8/1/1890 p.8; 4/4/1892, p.8. Ballymoney Free Press 4/14/1892, p.2. Windsor and Eton Express 12/27/1902, p.2. The Field 8/20/1892, p.15; 2/12/1910, p.66; 5/21/1910, p.20; 9/16/1911, p.85. Civil and Military Gazette 1/5/1892, p.4. The Sportsman 4/30/1903, p.2.
5. The Peerage Page (thepeeragepage.com) contains basic biographical information on the Harvey, Grenville, Montgomery and Murray families.
6. The Sporting Gazette 6/27/1891, p.9. Aberdeen Press and Journal 5/1/1893, p.4. Dundee Evening Telegraph 4/29/1893, p.3.
7. The Field 8/18/1894, p.55; 8/19/1899, p.55. Willoughby, EABG, p. 41.
8. J. G. Kirton, Daniel Fraser: Gun and Rifle Maker of Edinburgh. Scotland. Amherst, NJ: Arms Collecting Publications, 2014.
9. Thanet Advertiser 4/17/1931, p. 4. The Sportsman 5/31/1902, p.4; 4/30/1903, p.2. Windsor and Eton Express 6/21/1884, p.2. The Field 5/25/1907, p.70; The Field 5/21/1910, p.20; 7/30/1910, p.112.
10. Current information on Langley Park as a Buckinghamshire Park and a Marriot Collection Hotel may be found by searching "Langley Park, England."
Published by Vintage Guns Ltd on