It appeared listed at Holt's in the November auction.
A GOOD CASED .360 (2 1/4IN.) B/P EXPRESS 1865 PATENT FALLING-BLOCK HAMMER ROOK RIFLE BY ALEX'R HENRY, serial no. 2905, a second quality model manufactured in 1873 with 25in. octagonal barrel engraved 'ALEXR. HENRY. 12 SOUTH ST. ANDREW'S ST. EDINBURGH. PATENT NO. 2104', dove-tailed standing notch rear-sight with two additional folding leaves equipped with white metal sight lines and marked for 100,150 and 200 yds, bead fore-sight, barrel with Henry patent rifling, use number 137, standing breech with an oval marked 'PATENT NO. 815', left hand bolted back-action lock with high-spurred dolphin hammer, top strap drilled and tapped for a peep-sight (absent), fine border and acanthus scroll engraving retaining slight traces of original colour-hardening, well-figured pistolgrip stock with horn pistolgrip-cap and chequered steel buttplate, fore-end with crosspin release and horn finial, in its full length oak case with numerous accessories and South Andrew Street address trade label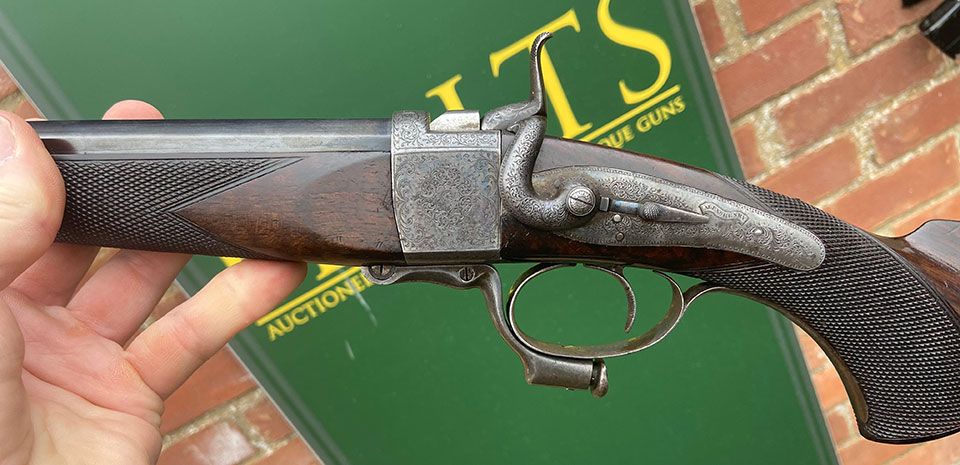 This beautiful and dainty little rifle was the smallest of the action sizes Alex Henry built. The tiny .360 Rook is a far cry from the .450 black powder express rifles that were then commonly used for red deer on the Scottish hill; and further still from the massive version used to build a 12-bore for Stephen Grant in 1885, which he sold to the 7th Duke of Marlborogh (Winston Churchill's grandfather).
The 1865 patent falling block was a very successful design and it remains one of the most beautiful and practical vintage rifles still encountered.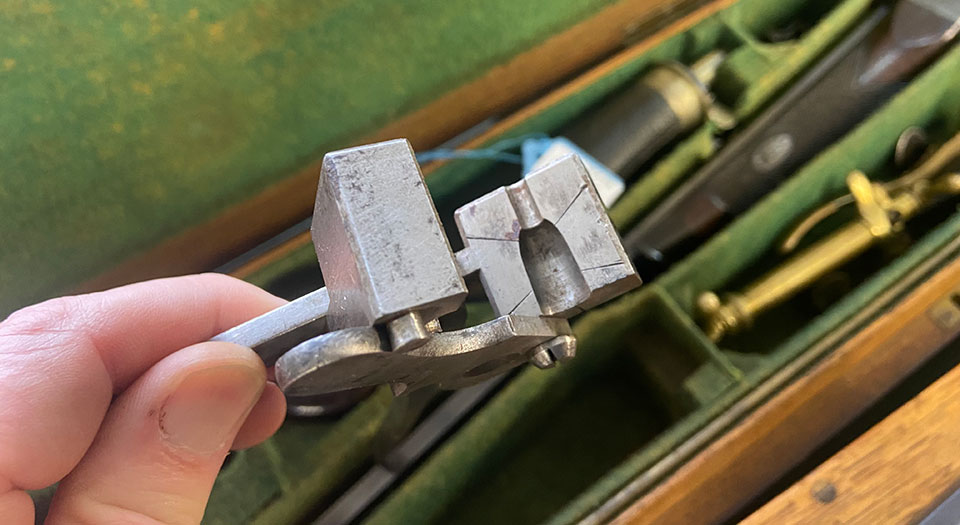 The left-hand positioning of the lock helps a right-handed shooter load with his right hand, as there is no hammer blocking the passage of his hand to the back of the breech when loading a fresh cartridge.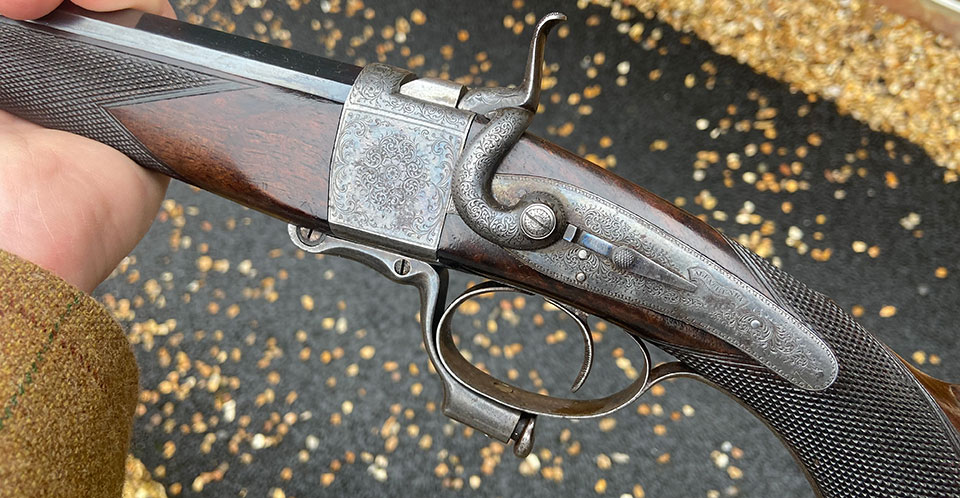 The rifle, though described as 'second quality' is very nicely finished, with medum scroll engraving. The sliding bolt on the exterior of the lock prevents unintentional dropping of a cocked hammer onto an open breech, or, of course, from firing inadvertently.
The stock is well-figured and a pleasing dark walnut, with a gracefully shaped pistol-grip hand. The steel butt plate was still in common use at the time, especially for rifles and serves to protect the butt when at rest on rough or dirty ground, which is more of a hazzard for a rifle than a shotgun in most cases.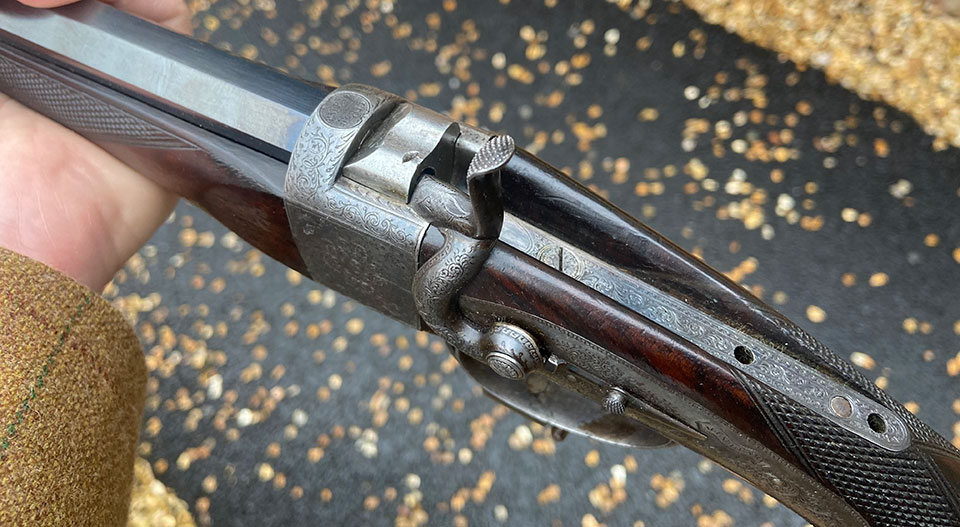 I had my eye on this one and the tempting estimate of £3,000-£5,000 kept my attention. In the event, it comfortablty sailed past the high estimate to arrive at a healthy hammer price of £7,000, which is the same figure the Duke of Marlborough's Stephen Grant 12-bore made, back in 2016.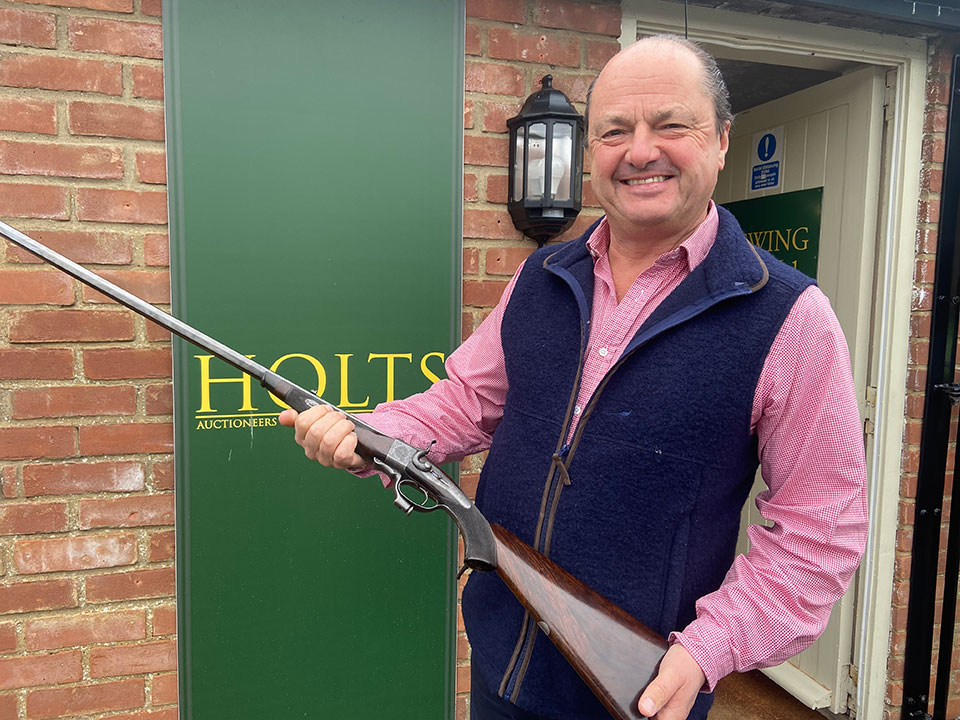 What was particularly remarkable was the fact that the rifle was still in its case, with all the tools and components necessary to load it. Bullet moulds, de-cappers, turnscrews etc, all as on the day it was delivered. In the UK the .360 is classed as 'Obsolete' so the rifle can be owned without a licence and kept as a curio or ornament.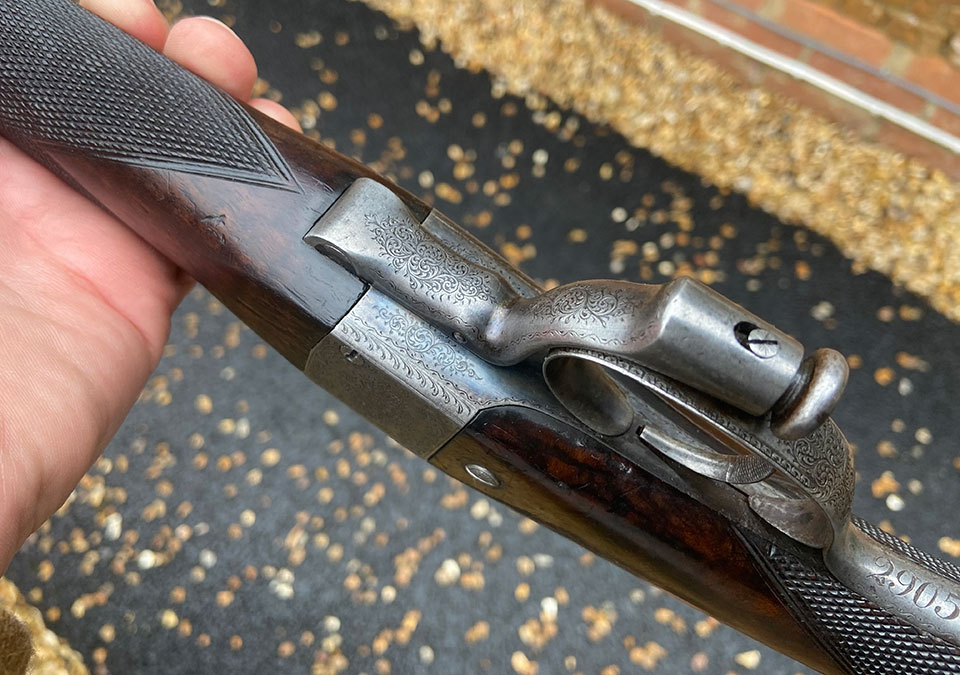 Loading ammuntion and using it would negate the 'Obsolete' classification in law and any owner planning to shoot the rifle would have to have it placed on his Firearm Certificate.
While it would make a stunning addition to any collection, I secretly hope that the new owner will shoot something with the old Henry, in this condition, it deserves to be kept in service.
Published by Vintage Guns Ltd on (modified )