Attending a Holts auction is a fateful thing to do – there are always a couple of lots that jump out at you unaware, with a whacking great tag saying "buy me".

I had read the catalogue and wiped my forehead quite satisfied that there was nothing I had to buy. But when I saw this gun at the auction viewing it had the wow factor and I knew the bidding paddle would arise.

The gun in question was an 18 bore percussion shotgun by a Scottish provincial maker, David Murray from the charming fishing town of Stonehaven just south of Aberdeen. It was a very elegant late built percussion gun c1860 with Westley Richards wood bar locks with silver plates inlet under the breeches.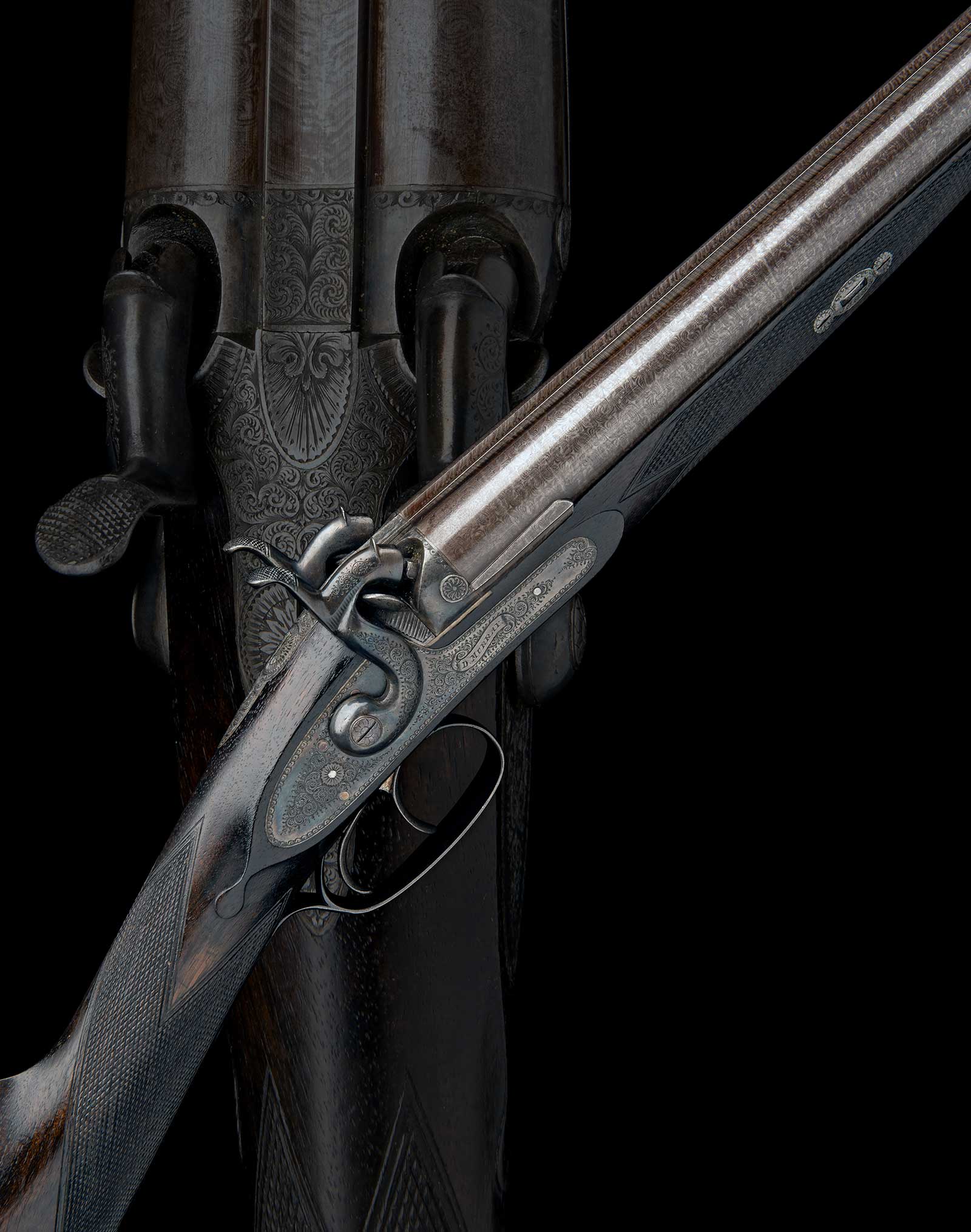 David Murray of Stonehaven never trained as a gunmaker. He was born in 1827 and became a weaver but having a great interest in guns and their manufacture opened up a shop selling and repairing guns. Charles Playfair, the noted Aberdeen maker said he would always know Murray's stock on any gun as they were so well finished. He soon acquired a considerable reputation as a gunmaker and cutler and was very successful. He died on the 18th February 1891 and his business closed shortly afterwards.

Three things appealed to me about this Murray percussion gun. Firstly, the quality was stunning, every bit as good as a Boss or a Purdey, with fine scroll engraving, fine Damascus barrels, figured stock with drop points etc. Secondly, the gun was in almost unfired condition, near mint with much of its original colour remaining.

Thirdly and the main reason I fell in love with it was that it was so appealing. It had twenty- inch barrels. Yes twenty-inch barrels and it had been built like this. The whole gun was scaled down to accept these short barrels, shorter fore-end, barrel bolt well back etc. In addition the gun balanced beautifully and it looked just so cute and unusual.

Now here is my question. Does anybody know of another Murray percussion gun with short barrels? I did find an advertisement in the Stonehaven Gazette from 1858 advertising a ball gun with 26" barrels. Did Murray specialise in them? The quality of this gun is such that it had no belligerent purpose. Was this a walked-up grouse gun a covert gun?
Published by Vintage Guns Ltd on