The Toff brings to any shoot day an aura of jaded elegance and can best be described as a sociable gun. In the enviable position of never having actually paid for anything relating to shooting in his life, he does however shoot regularly throughout the season at a variety of sought after venues both north and south of the border. Seemingly, always available as a guest, or last minute replacement and accompanied by his ageing and odorous Labrador Biff, The Toff is, for a mixture of reasons, classed as an A-Lister by those bothered to interest themselves in county and shoot day gossip.
His tweeds, of Edwardian cut and styled for a distant relative shortly before The Great War, have over the years been patched and darned with varying degrees of success by a selection of enthusiastic but myopically challenged housekeepers. His favoured gun, no. 2 of a London pair inherited from an uncle, bears witness to a lifetime of casual maintenance. Still vaguely serviceable with the choke barrel arguably in proof, the stock appears at some time in its life to have been used as both a teething aid for a dynasty of hard mouthed Labrador pups and as a handy substitute fencing maul.
His cartridges, a bulk buy by his grandfather while on a hunting tour of the Indian sub- continent, are Kohinoor Brand from the infamous Punjab Propellant and Munitions Company. A vast pile of which, still gaudily crated, lurk in varying degrees of instability in the nether regions of the Estate gunroom. Never reliable and now suffering from an ingress of damp, his Kohinoors are increasingly subject to an inordinate amount of misfires. On occasion when they do ignite the result can be for the uninitiated both spectacular and alarming.
The ensuing report, not dissimilar to the flat bark of a light artillery piece, is followed by an enveloping cloud of acrid black smoke centred by a searing vortex of pinkish blue flame. This un-nerving distraction allows further flushed birds to pass over his and the pegs of his immediate neighbours unseen. Wisely wishing to avoid personal injury The Toff never attempts a right and left, preferring carefully spaced single shots at selective birds. Oddly the combination of a lazy firing pin, erratic cartridge performance and self- imposed safety regime in no way appear to be a handicap and over the course of the season The Toff's shot to kill ratio label him a competent gun.
Pyrotechnics aside, The Toffs enjoyment of the day is never more acute than when members of the fairer sex put in an appearance. His enthusiastic pursuit of female company regardless of age, breed or creed is legendary and a much discussed topic amongst some of his fellow guns. His deceptively casual manoeuvring is carried out with such lazy charm that, apart from the incident with the young uber- feminist from New Zealand which in the end turned out to be some sort of cultural misunderstanding, no offence is ever taken and both parties appear to benefit from the added frisson to their sporting day.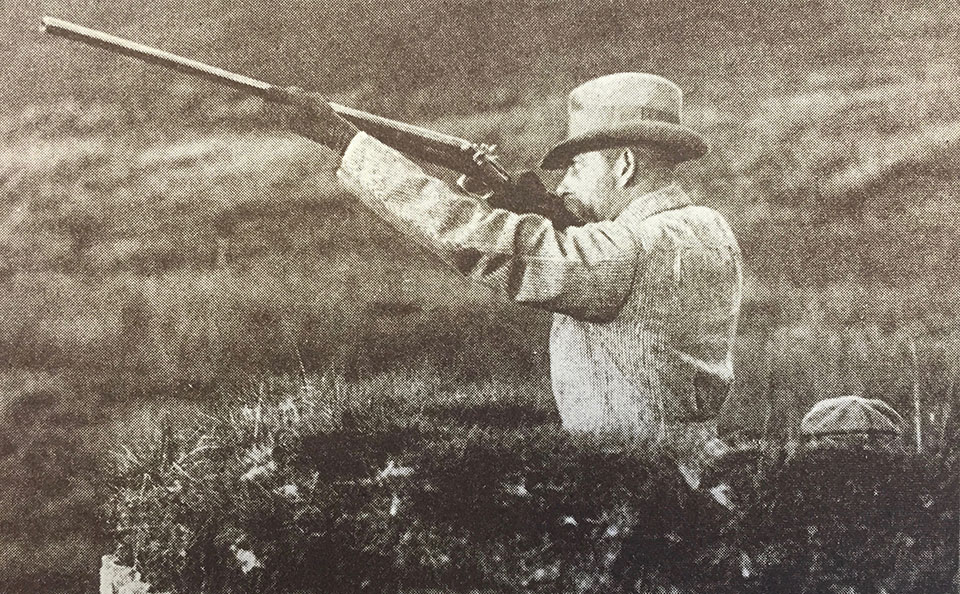 Published by Vintage Guns Ltd on