The sector has stagnated of late, certainly since 2012. There was some hope of a recovery this year and one or two signs that there are areas where prices continue to increase. A notable sale last summer was a fairly tired Dickson 16-bore, round-action, with side-lever. Despite a cracked stock and replacement barrels, it exceeded its £3,000 low estimate to make a final sales figure of £26,000, once all fees were included. Rarity and collector value can still carry the day.
Colleagues have reported a general downturn in the turnover of English side-locks and boxlocks. Some are moving their businesses to focus more on foreign over/under guns of high quality. As ever, price is a factor, as is availability.
My business struggles less from the need to find buyers than it does from the difficulty in finding good, fresh to market, quality stock at the right price. Auctions are no longer a good supplier of guns to the trade, as the commission taken by the auctioneers allows very little margin to make any profit.
There is still a strong market for best quality, rare and high condition guns, hammer guns especially; certainly among my customer base. A good example of the type of gun in demand is the Purdey illustrated here. It was made in 1880 for an American buyer, with very low comb and a pistol-grip stock.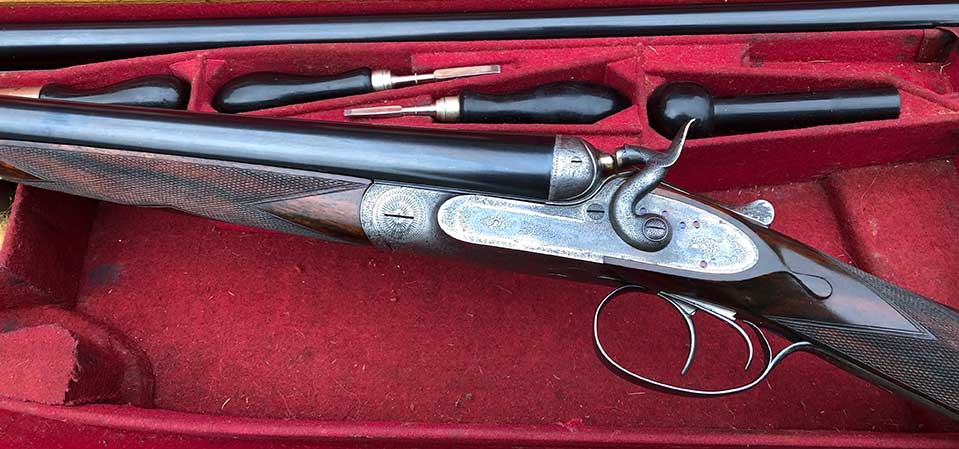 It has a set of Whitworth steel barrels and a set of Damascus barrels (which have been blacked). One set is choked Full and Full, the other 1/4 and Full. The gun was returned to Purdey in the first five years of the 20th century and was re-stocked to more usual dimensions and with a straight-hand stock, before being re-sold from Audley House.
As a gun destined for the USA, it was supplied in a case with a full set of loading tools and instructions for powder and shot charges. The action is a heavy version of Purdey's solid bar (not bar-in-wood) bar action, hammer gun. It weighs 7lbs 8oz and was originally made with the longer 2 3/4" chambers normally reserved for pigeon guns or wild-fowling guns.
In field tests, it handled 36g loads without undue discomfort, though 32g may be better as all rounders, with the 2 3/4" chambers enabling shooters today to load with 70mm case cartridges, like Game Bore 'Dark Storm' or Eley 'Zenith', which are hard-hitting shells designed for high birds. Heavier guns with tight chokes like this are currently in demand from high bird shooters. This contrasts with the market of twenty years ago, when everyone seemed to want very lightweight guns and heavy guns were very hard to sell.
The Purdey sold to the first interested client to whom I showed it; for the full asking price. Earlier in the year, I sold another Purdey hammer gun, this one a bar-in-wood example, within three hours of getting it home. Good Purdey hammer guns are easy to sell (at least they are here at Vintage Guns), as are Woodwards, Stephen Grants, Horsleys and Dicksons. The difficulty is finding them.
The market currently reinforces what I always advise customers; don't buy guns as investments. Buy them because you like them and buy the kind that you have a use for or an interest in and enjoy them. If you keep them a few years, you should come out of it well, if not, at least you have the pleasure of ownership.
Another sector that seems to be doing solidly is the good quality boxlock ejector for under £2,000. It helps if they have 30" barrels and stocks of 15". Chambers of 2 3/4" are a bonus. Customers are seeing the value in these and at this price point they are wise to do so. Stick to Anson & Deeley models with sensible ejector systems and double triggers for reliability.
My Stateside colleagues report similar sensibilities, with boxlocks in the £1,500 range selling very well. The old 'middle ground' of side-locks and boxlocks in the range of £2,500 - £6,000 is stagnant. People seem to be worried about the economy and sitting on their money until some sign of stability emerges. This is despite the US economy being touted as very robust at present.
Perhaps the Trump presidency is creating a sense of caution among middle income earners that belies the bellicose statements of the administration. Talk of trade wars and uncertainty about the outcome of mid-term elections for the Senate and the House may be factors in the cautious approach to the market many seem to be displaying.
For buyers here, side-locks are great value. Buy provincial makers' wares of the highest quality and in the best condition you can find. For £5,000-£8,000 you can get some very good value right now, as it is a buyers' market.
For the long term, best quality hammer guns look the best place to have your money. I was asked recently for £40,000 to buy a pair of very nice, original, cased, Purdey hammer guns. They are no good to me at that price but it shows what level of investment owners of the very best kit are demanding.
With all this talk of money, let us not forget the real reason we love these old guns. For their intrinsic quality. I have just come back from Combe in Devon, where I had the privilege of spending the day in the woods, shooting some very challenging pheasants and partridges with my Stephen Grant, side-lever, 16-bore, hammer gun, while my friend swung his new purchase; the Purdey in these photos. There are, in my opinion, no better guns with which to engage in our wonderful sport.
Published by Vintage Guns Ltd on