Higham's name appears in expert witness testimony in the 1868 case of a Mr Perreau, claiming to have accidentally shot his rich, widowed mother-in-law in the head with a pistol.
Perreau claimed the pistol had 'gone-off' while being handed to her for inspection. The case reports: 'Mr Higham, a gunsmith, Warrington, said he had had forty years experience as a gunsmith and "did not think Mrs Brigham (the widow) could fire the pistol in the way Mr Perreau described."
In his view, the pistol at half-cock could not have gone off, as it was in perfect order. He would not swear, however, that that it could not have happened as Perreau had told it'. No further action was taken against the accused.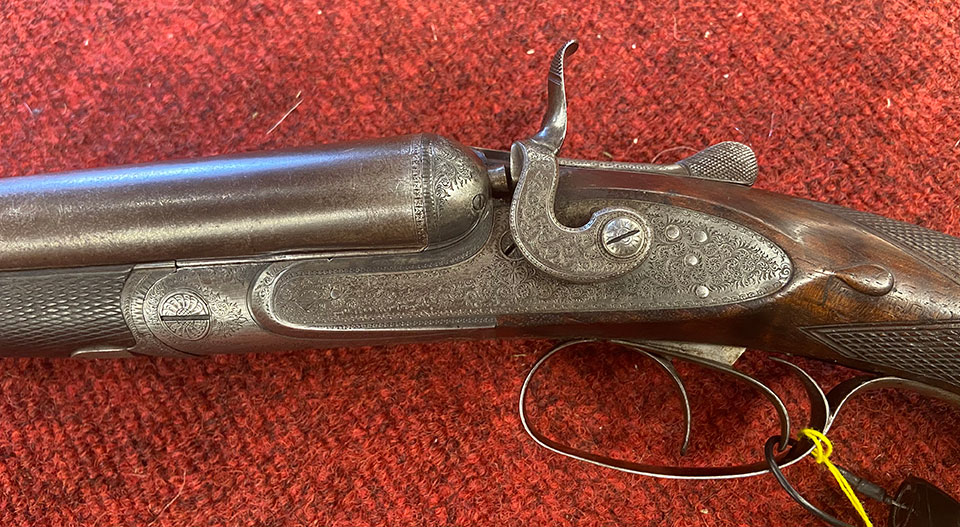 Today, we have a wood and metal reminder of Higham's existence as well as the documentary evidence of his contribution to that old police investigation. ( It is likely that the man quoted was George Higham, who was probably Stanley Higham's father). It is a 12-bore hammer gun of fine quality made in around 1884, with 29 1/4" damascus barrels, proofed for black powder and weighing 6lbs 14 oz. It is one of a pair. The rib reads 'Stanley Higham, Warrington'.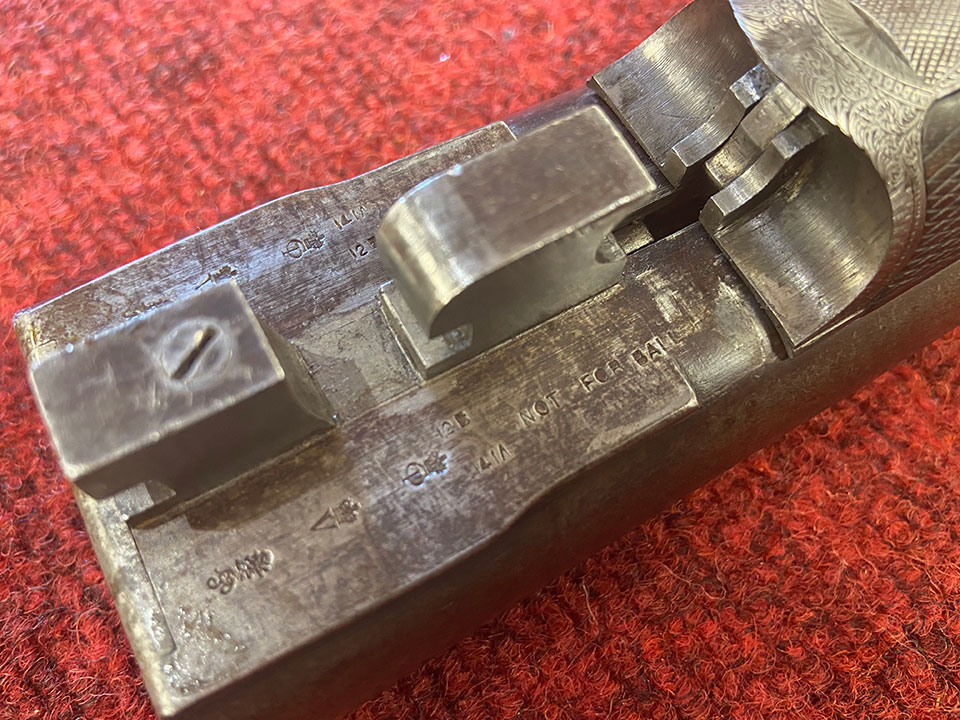 Bolted conventionally with a top-lever and Purdey bolt (it carries a patent-use stamp numbered 7959). However, the most unusual feature of the gun is the forend, which remains attached to the barrels when the gun is dis-assembled. Instead of a familiar forend release catch, it has a chequered button just in front of the forend iron.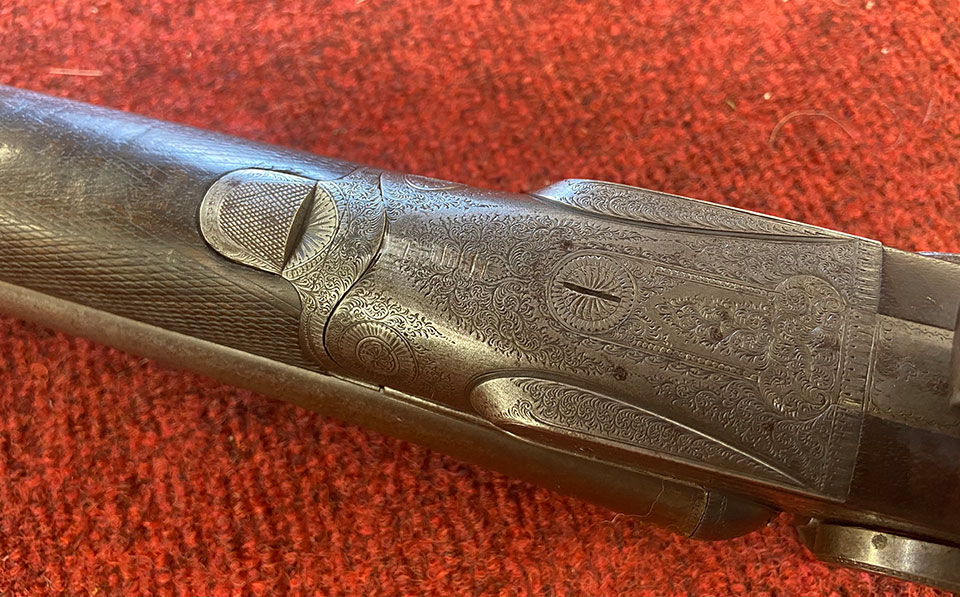 The mechanism is governed by a patent taken out by Ellis and Wilkinson for a 'sliding forend', patent number 292 of January 1877. To dis-assemble the gun, the button is depressed and the forend pushed up towards the muzzles.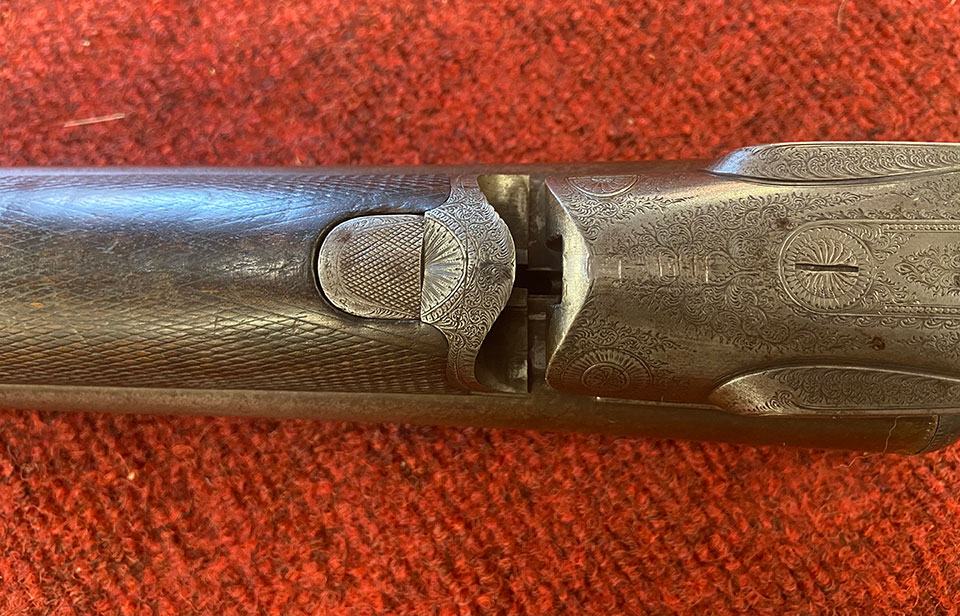 With the forend iron now an inch or so in front of the knuckle, the top lever can be used to release the Purdey bolt and the barrels hinge in the usual manner but, unrestrained by the forend can be lifted off the hinge pin, rendering the gun in two parts. It is a simple operation and neat in appearance.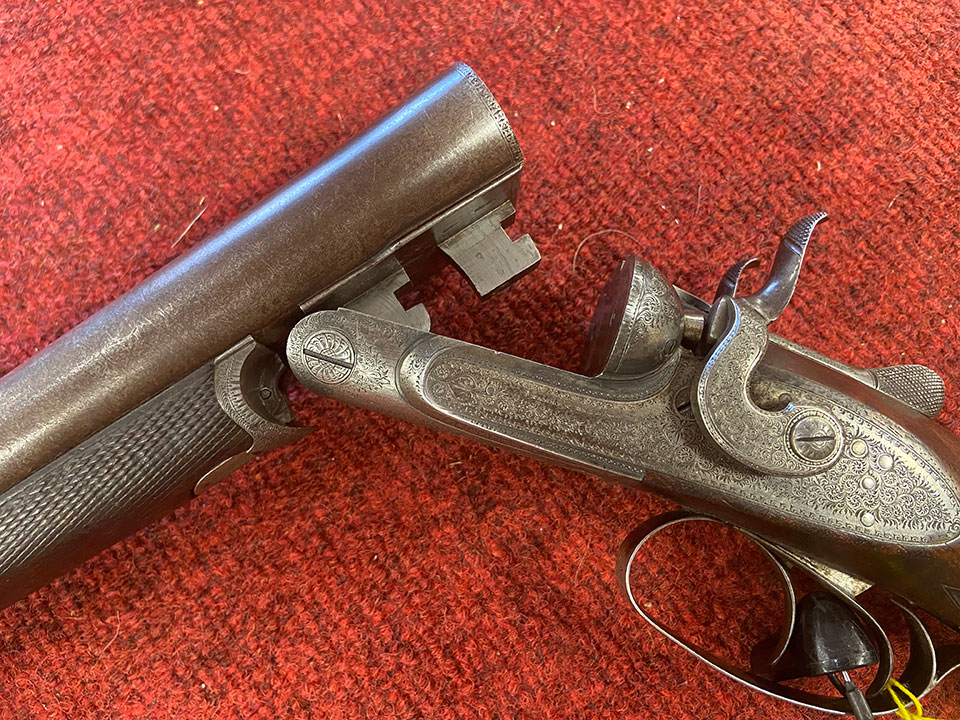 In other respects, the gun is conventional, with bar-action locks, though the nose-less hammers with high spurs are peculiar in style. However, such variations were not uncommon in 19th century provincial guns, which could differ significantly from the usual London style.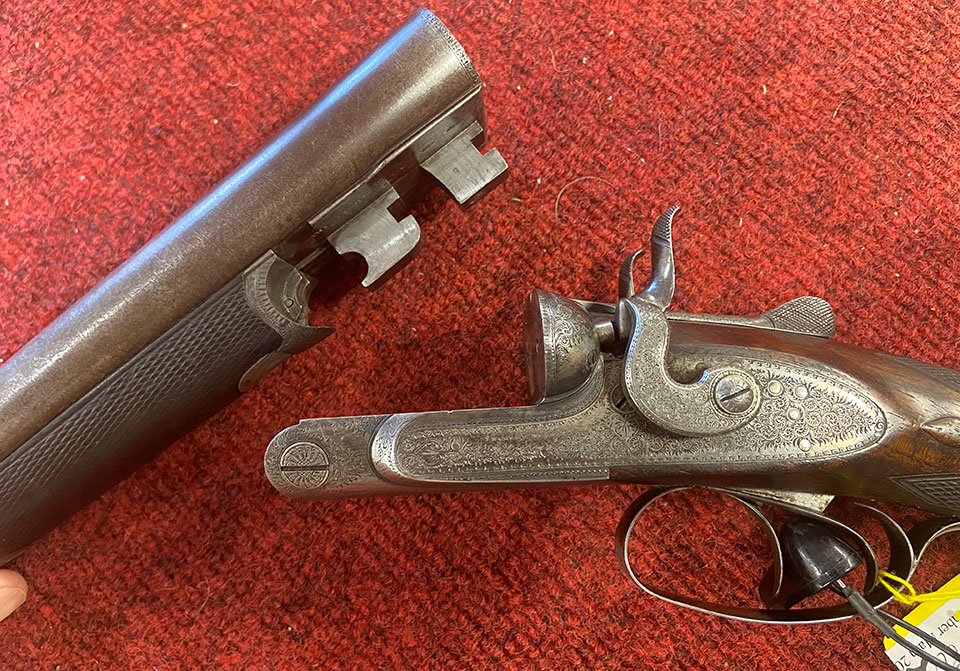 The locks are re-bounding, as would be expected in this period, and fully engraved. The action filing and metal-to-metal and wood-to-metal fit remains very good despite the gun's age.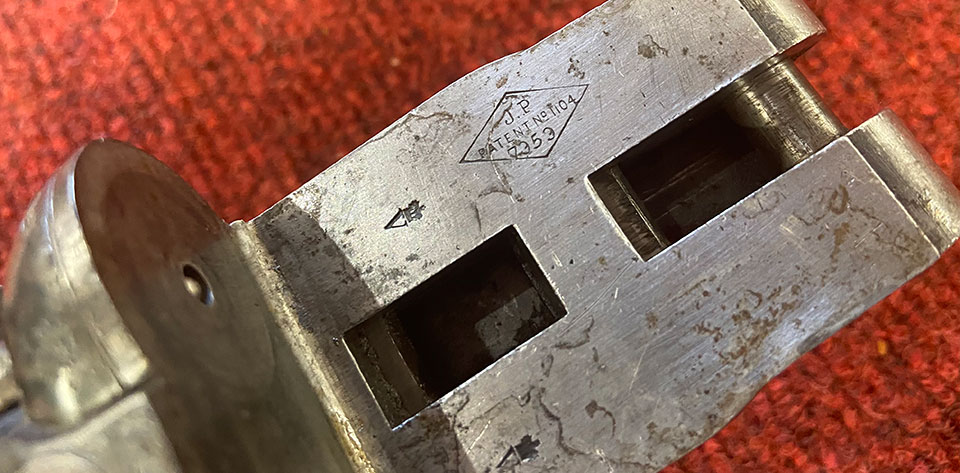 Higham is a name in Lancastrian gunmaking that endured for several generations. Started in Liverpool by Edward & George Higham in 1795, it branched out, with a Geooge Higham setting up in Warrington in 1807, becoming Higham & Son in 1874 and Stanley Higham in 1883. Further Higham shops, under George and Samuel opened in Oswestry and Welshpool.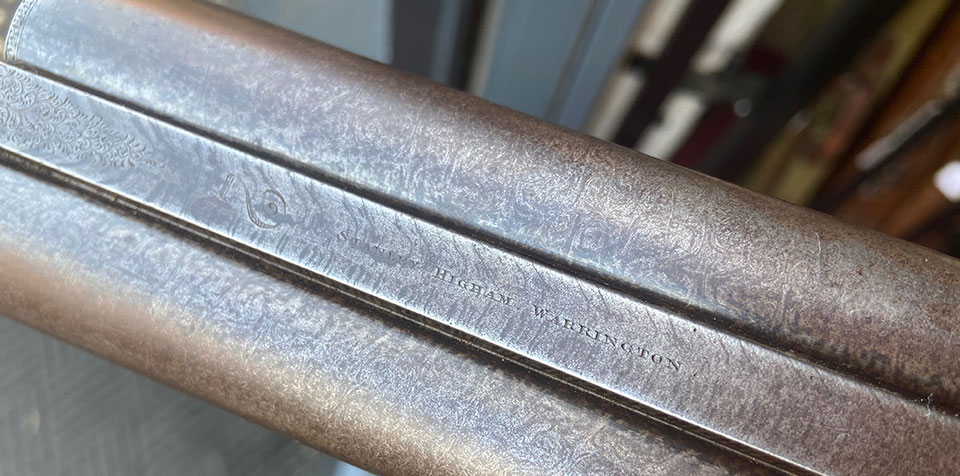 W.C.Carswell took over the Liverpool business in 1917 and the other Higham family names had ceased trading by 1913, marking an end to what had been a span of over a century in the trade.
This well made, unusual and attractive hammer gun remains to remind us that provincial makers from the mid to late 19th century were capable of putting out first-class work with a twist of their own style in the years before they turned to ordering their guns complete from the big Birmingham factories.
Published by Vintage Guns Ltd on (modified )