Arguably, all new gun designs are evolutionary. They retain the essential parts of lock, stock and barrel which have been with us since the first 'hand canons' emerged.
Subsequent development has been the process of making each of those components better and making the gun perform its function faster and more efficiently. Another element of design encompases the drive to make each part more easily machine manufactured and simpler to assemble, thereby cutting costs.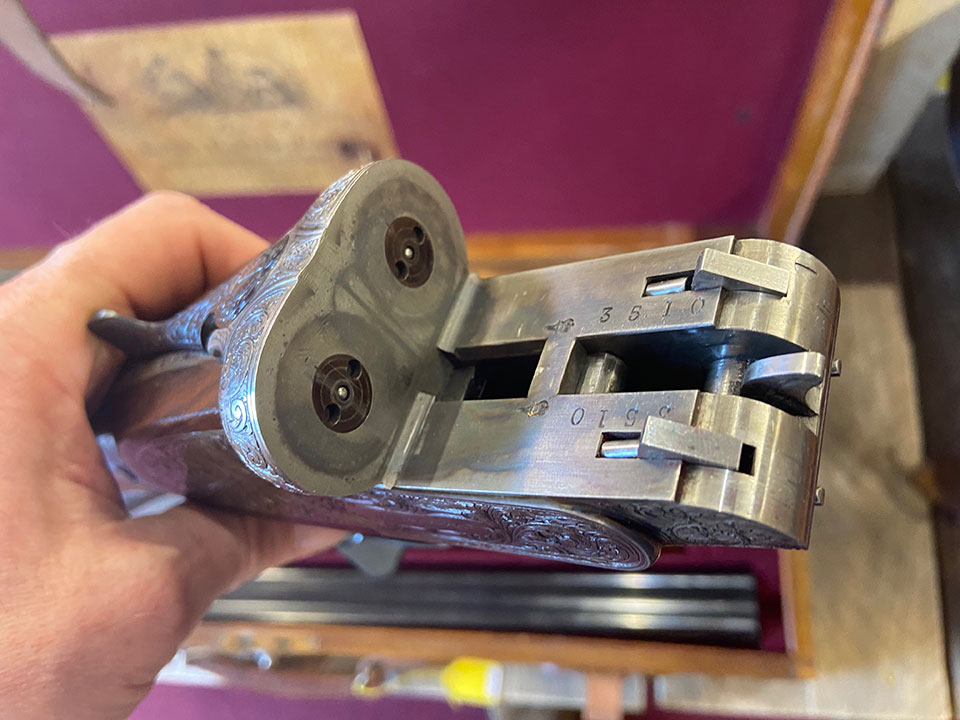 The nineteenth century saw huge changes from the firearms carried by the Victorian sportsman's forebears. They ran alongside developments in ammunition.
So, while we can argue that all developments are evolutionary, some step-changes affected the trade sufficiently to surpass anything made to that point, rendering the previous methods obsolete forever.
We can identify some of these important points and trace, from them, the emergence and consolidation of the gun types we recognise and use today. A brief list of such British guns would include pin-fire in the form of the Lefaucheaux breech-loader, introduced by Lang, (not seriously influencing British guns until about 1863) which brought the percussion muzzle-loading era to a close. Then, the 1861 (Schneider) patent, Daw Centre-fire marked the start of the truly modern era, with guns and cartridges of a type we recognise and still use to this day.
Next comes the 1875 Anson & Deeley boxlock, the gun that proved the future was hammerless, then the 1880 Purdey/Beesley spring-opener, which is the pinnacle of 'Grand Complication' and matchless build quality; marking the self-opening side-lock ejector as the best-of-the-best.
These designs were truly revolutionary and ground-breaking in their day, changing the look, manner of operation and component parts of the guns people used.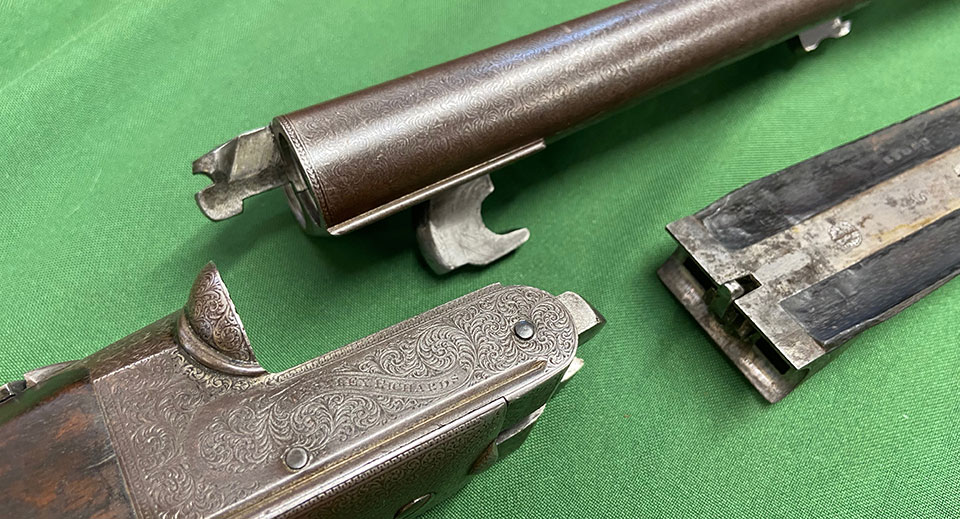 To those we should add the 1880 Dickson 'round action' as one with its own distinct lock arrangement, marking a clear departure from the boxlocks and side-locks and representing a third lock type; the trigger-plate lock; which is also employed (in much-modified form) today on most over & under guns.
Entering the early twentieth century. we should acknowledge the 1912 Woodward over & under, alongside the 1908 Boss, with their hugely influential locking systems, which drastically reduced the height of an over & under action.
However, we must also look to America and Browning's 1931 'Superposed' and his 'Auto-5', (patented in 1900) as instigators of the movement towards mass-produced over & unders and semi-automatic sporting guns respectively.
The mid twentieth century brought the Italian over & under typified by the Beretta 68 series but originating with the S55 in the 1950s. That about covers it. Most of what sporting gunmakers build today stems from those concepts.
If that is true, how then do gun companies launch new models to tempt us? Are they offering anything truly new or are new guns merely re-packages of old ideas?
'Back to the Future' as a concept is what both Westley Richards and Rigby have largely based their rejuvenation and current success upon. They each decided that the company has in its archive, models and styles that epitomise them and appeal to their modern customers, as they did to their historic ones.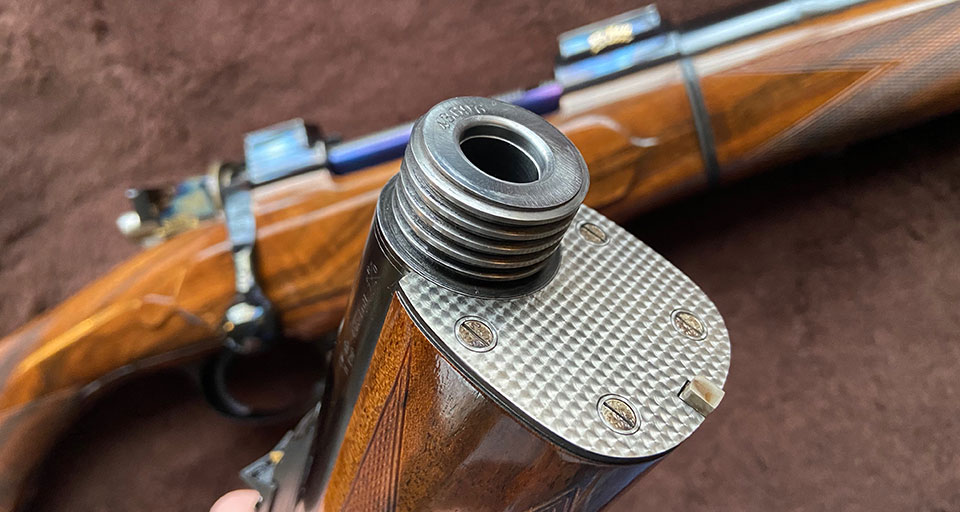 From this recognition, Westley Richards began building best quality Anson & Deeley action double rifles and shotguns, Mauser action rifles of traditional Westley Richards type and calibre, and hand-detachable lock doubles. All these stem from patents and pattern books in the archive and are instantly attributable to the firm.
This mirrors most of the output of Purdey, Boss and Holland & Holland this century. Their best guns are essentially the same as those they were building a century ago.They are also models immediately attributable to those firms.
Rigby (when 're-born' and re-established in London) started making a slightly modernised version of their Mauser action bolt-rifles from the WW1 era. Once that was successful, they revisited their famous double rifle and shotgun action; the Rigby & Bissell patent 'rising bite' (vertical bolt) action.
They are, however, entirely 19th century technology, though uprated to cope with modern loads
These, also were built to the best modern standards and proved immediately successful. They are, however, entirely 19th century technology, though uprated to cope with modern loads and calibres. New machining techniques made it feasable, once again, to build these complex and finely-tuned designs, which had given way in the early 20th century to simpler boxlock actions that were cheaper to mass produce.
These firms essentially re-visited their vintage back-catalogues for inspiration and have been making new versions of the rifles and shotguns from them. New models are actually old models, though small adjustments will be noticed in a direct comparison.
Stocks, for example, will now often be higher-combed to facilitate a 'scope, whereas the original may have been stocked for iron sights. Modifications to the safety catch of the Mauser may be applied, or not, depending on the customer's preference.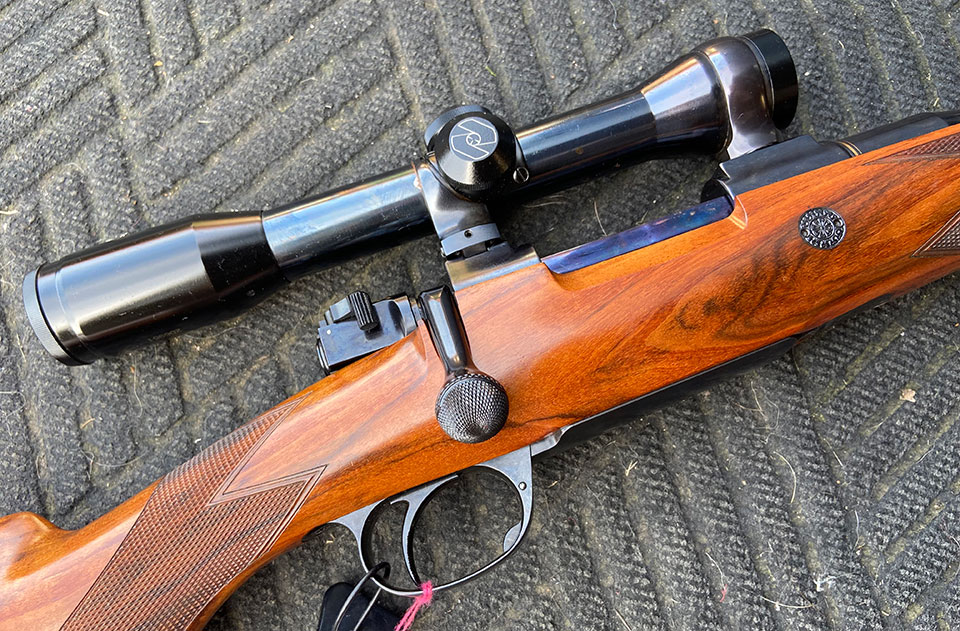 When Westley Richards built their prototype 'modern mountain rifle' in 2021, with stainless parts, injection-moulded stock and thoroughly modern image, they modelled it closely on a traditionally-built Mauser-action rifle and it comes across as every bit the thoroughbred that the wood-stocked, blued-steel models are; and almost as expensive.
This was no budget rifle concept; more an exercise in seeing what a rifle built to best standards using the most modern materials would look and behave like. However, the materials are what has changed rather than the mechanics.
When Purdey decided to add an over & under 'Sporter' to their range, they brought in a model that was totally unlike anything the classic Purdey over & under, patented by Woodward, which had been their house model since the 1940s.
Instead, they refined an Italian-designed gun, with removable trigger mechanism, from Perugini & Visini, with whom they collaborated. Purdey wanted a proven-reliable platform that would appeal to modern clay shooters. They then worked to design-in some cross-over appeal by giving the gun aesthetic and design features that were more 'English' than is usual in continental guns.
New model introduction these days really involves manufacturers looking at the options for each part of the gun that already exist and then deciding which ones they are going to use.
None of those ideas were new or revolutionary; they were existing knowledge applied to a new model
The Longthorne 'Hesketh' shotgun, for example, made a locking mechanism by basing it on Boss drawers and wedges, with Woodward stud pins. The one-piece steel barrels are not, in fact, a Longthorne novelty, but an idea first put onto a gun and sold in England in the 1870s, by Sir Joseph Whitworth.
New Browning and Beretta models use the same platform that has proven successful in their past, they may re-design the cosmetics, the shell, if you like, but the mechanics remain largely the same.
New thinking may affect the proportions; for example the wide 'Opti-bore' concept Beretta applied to their barrels a few years ago, introduced barrels with wider bores, longer forcing cones and longer choke cones intended to improve patterns, reduce recoil and facilitate the use of steel shot.
None of those ideas were new or revolutionary then; they were existing knowledge applied to a new model to reflect modern thinking. The 686 and 687 models remained the bifurcated trunion / conical bolt classics that we all know so well.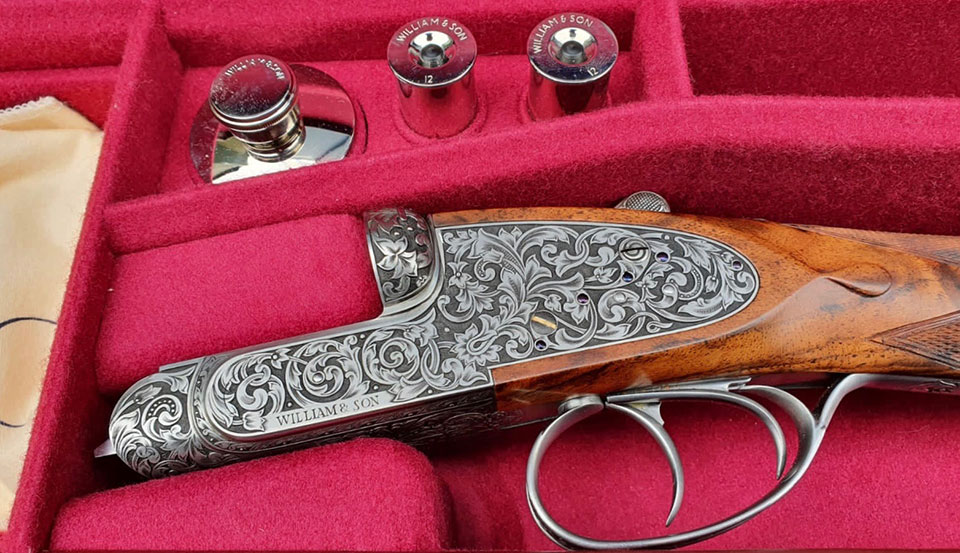 Thinking back to the 2007 Purdey 'Sporter' and the Perugini & Visini detachable-trigger-lock mechanism used, I should point out that it is basically the Perazzi MX8, which also manifests itself in the guns of Kemen. Actually, we can go back to Hill & Smith;'s patent of 1908 for the first fully detachable trigger-plate-lock mechanism of which I am aware. I have seen only one example of this, made by Thomas Bland.
When appraising new models today, it is generally the execution that draws comments from the reviewer, how well-balanced the gun feels, how well it tames recoil, how smoothly it swings and how nice it feels to shoot and operate.
Rarely do we read of truly new ideas, they are merely old ideas re-packaged or re-interpreted to be re-blended into a package that makers think will appeal to a modern shooter or succeed in a particular modern shooting context.
We are likely to see new models hitting the showrooms in the future. For game shooting, the challenge of making guns that will handle well, yet prove strong, stable and pleasant to shoot with superior steel loads will be one that makers strive to meet. It is unlikely these models will be radically different in the operating systems they employ.
The adjustments of the future will manifest themselves in proportions and materials rather than patents and ground-breaking ideas.
Published by Vintage Guns Ltd on (modified )