This label, dates from the time Lancaster moved to 11 Panton Street,. The move happened in late 1904. The style 'Charles Lancaster & Co Ltd'. makes dating more accurate, as it reflects the formation of a company with Henry Thorn as Managing Director. This was articled in July 1908. It is on thick printed paper and pasted to the lid of a single gun case.
It further celebrates the award of Grand Prix at the Franco-British Exhibition of 1908, as well as four Royal warrants.
Like many gunmakers he reminds customers of his previous address and date of the founding of the business. The telegram address 'oval bore London' refers to Lancaster's patent oval bore rifleing, designed to minimise black powder fouling.
The company stayed at 11 Panton Street until 1925, when it moved to 99 Mount Street, so the label is correct for any Lancaster gun made between 1908 and 1925. During this period, the firm was selling an over & under ejector gun, the famous 'wristbreaker'; a self-opening sidelock, a self-opening boxlock, designed by Beesley and, in the last year of the label's use, they introduced the 'Twelve-Twenty, with the 1906 Baker action. They also made a hand-detachable sidelock with distinctive ,phallic, lock plates and a push-out lock pin.
When the label was introduced, the firm was managed by Henry Thorn, who died in 1914, aged fifty-nine. Control passed to his son, George, Frederick Thorn.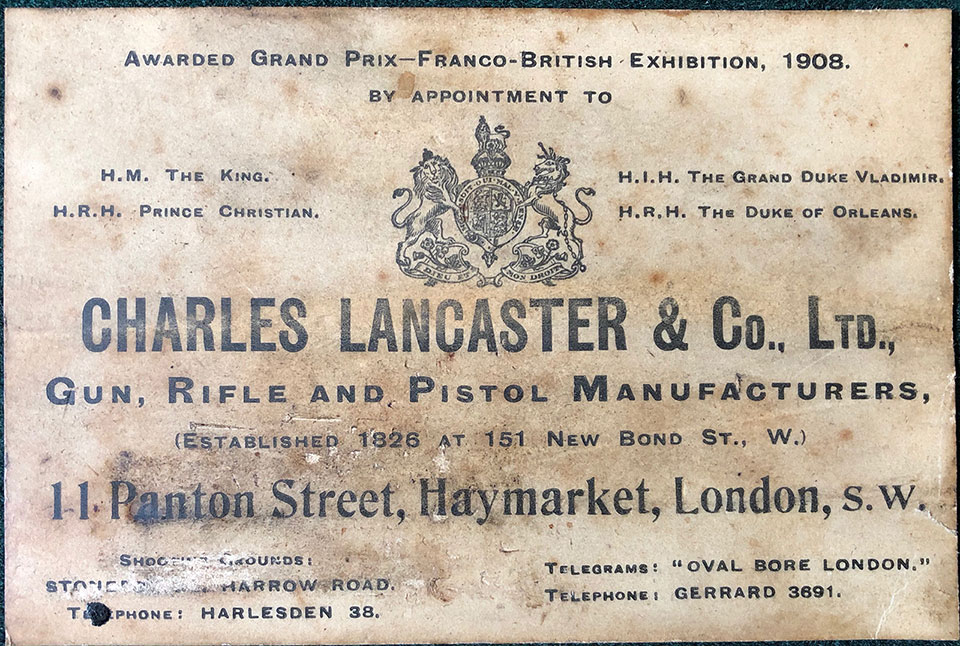 Published by Vintage Guns Ltd on (modified )