Almost twenty years ago a friend in India asked me to help him to sell his Holland and Holland " Royal " .465 double rifle which had been used by three generations of his family . His father and grandfather had been close friends of a Maharaja and so had shot many tigers between 1920 and 1940. It was a lovely rifle , in it's original case with a complete set of accessories and it was a pleasure finding it a new owner.
" Before you send me the proceeds of the sale , see if you can find me a Woodward twelve bore over and under " , he said . He was looking for one made early in the twentieth century and there were very few on the market. However I found one in private ownership , a very nice gun with a stock that had been extended with a leather covered pad , but unfortunately in a modern case with a modern trade label . He told me to go ahead and purchase the gun .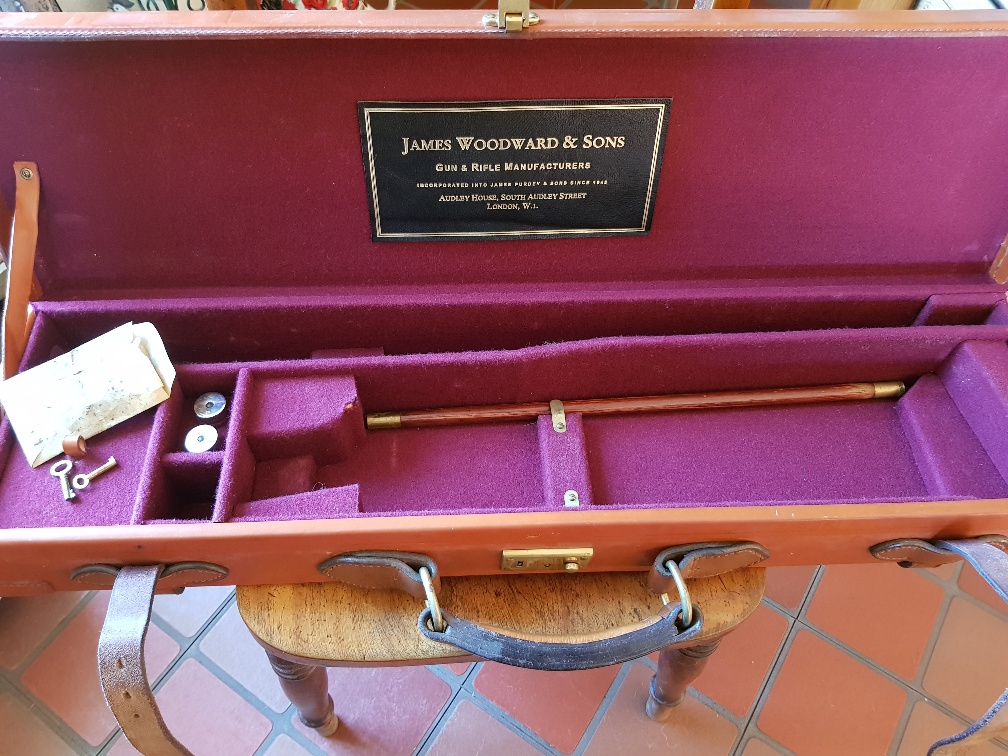 Some months later I remembered that when helping Bjorn Waktare and the Beretta family to set up the Beretta Gallery in London , I had been buying vintage gun cases and cartridge magazines to give the new shop a traditional look . One of the cases I had bought was an oak and leather case for a Woodward over and under . It had cost a lot to buy and I had put a high price on it as my thinking was that if one had a Woodward over and under without a case , to get the correct case one would be willing to pay the price.
It was a few years since I had moved on from the job with Beretta, but I made enquiries as to whether the case was still unsold . To my delight it was still there but of course I had to persuade the new management to sell it to me at a more realistic price than I had put on it ! We did a deal, but only after I had taken the gun to the Gallery to make sure it would fit in the case. To my amazement in re examining the case I found that the compartment for the stock had been extended to accommodate a longer stock , and that the gun ( with it's added pad ) fitted perfectly. I am sure that it was the case in which the gun had originally been supplied.
Much more recently , while exhibiting at the Kempton Park Arms Fair , a well know person in the London guntrade , and a friend of mine , wandered past my table carrying an old oak and leather gun case . I asked him what was in the case " nothing, but I want to sell the case " he replied .
So I had a look . It was a case for a hammer gun with an impressive label " Thomas Johnson & Son , Gun and Rifle Manufacturer , Swaffham " The label had the Royal coat of arms and a depiction of Queen Victoria and Prince Alberts' heads in profile. Until then I thought I had never heard of Thomas Johnson as a gun maker.
He asked me to make an offer and I was not sure that I wanted to . Where would I find a gun to go in it ? Might I have to remove the large label and put something like a Purdey or a Harkom in it ? If I did that would the place where the large label had been show ? " Go on , just make me a reasonable offer " he said . So I did , and he accepted. Later as I loaded the case in the car I thought " you shouldn't have bought that case , it will go on the pile with all the others that seemed like a good idea at the time "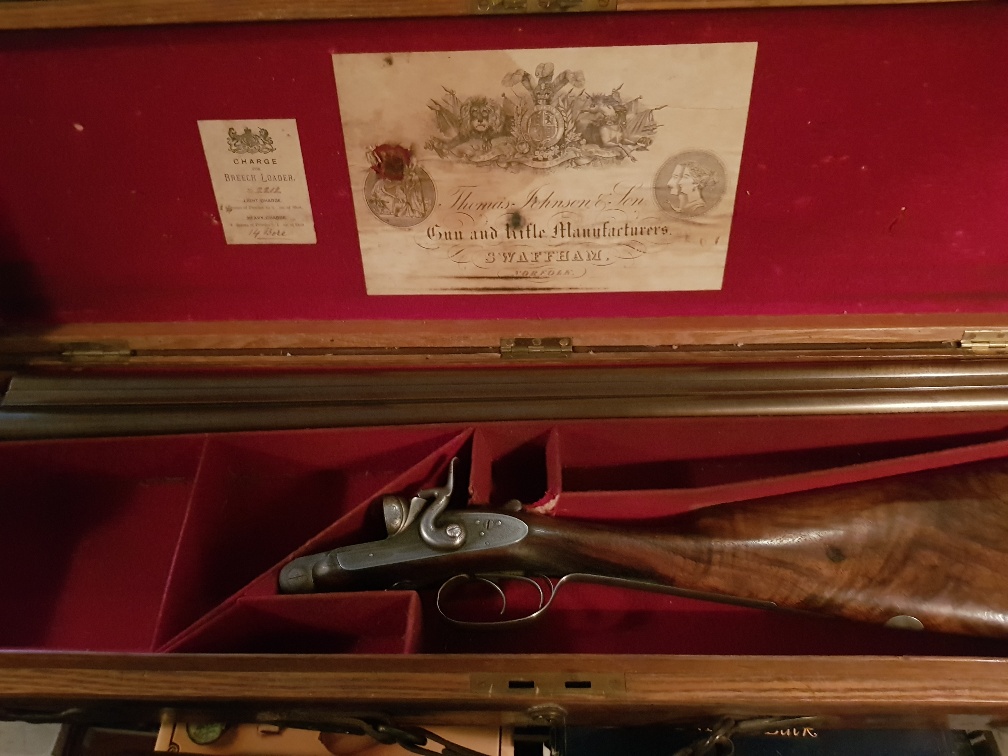 But, some days later I remembered that I had placed bids on an online auction on two bar in wood hammer guns . One was a John Dickson 16 bore and the other a 12 bore by a provincial maker whose name I couldn't remember , but I had bid because it looked like a Purdey and had an unusual top lever as it opened to the left. So I looked at the auction site again - - Johnson of Swaffham !
The barrel length of the gun matched the case so I quickly increased my top bid and waited for the auction to happen . As it turned out I got both guns for considerably less than my top bids and waited impatiently for them to be delivered .The Johnson gun fitted in the case perfectly though the action stood a little high with the result that it touched the lid . The impressive label has quite a deep hole in it where the action of the gun it had held had pressed into it !
Was it coincidence that both the case and the gun had come onto the market at the same time or had they been separate for many years ?
We will never know.
NOTES.
Swaffham is a town in Norfolk and is only a few miles from Sandringham , the Queen's estate. Purdey used Thomas Johnson's patent left hand opening top lever on the few guns of this type that they made , and the Johnson hammer guns that I have seen all look exactly like Purdeys , so I feel that there was a close relationship between the two makers . While Johnson's label does not have the " By Appointment " warrant , it does have the Royal Coat of Arms and my thought is that being so close to Sandringham he may have acted as the Royal Family's local gunmaker , and as Purdey's representative should the unthinkable happen and there be a problem with one of their guns in Royal hands.
Published by Vintage Guns Ltd on