Unzipping and pulling out a two incher doesn't usually result in birds falling at your feet but that is exactly the result I had this weekend.
Our pastime is frequently a shielded one, the main activity is usually between us and the birds, fifty yards form the next man. Perhaps a dog or two gets involved but it is unusual for one gentleman to get a glimpse of another gentleman's weapon during the fun. Once the frenzy is over, guns are zipped back up and a drink is had with everything safely sheathed.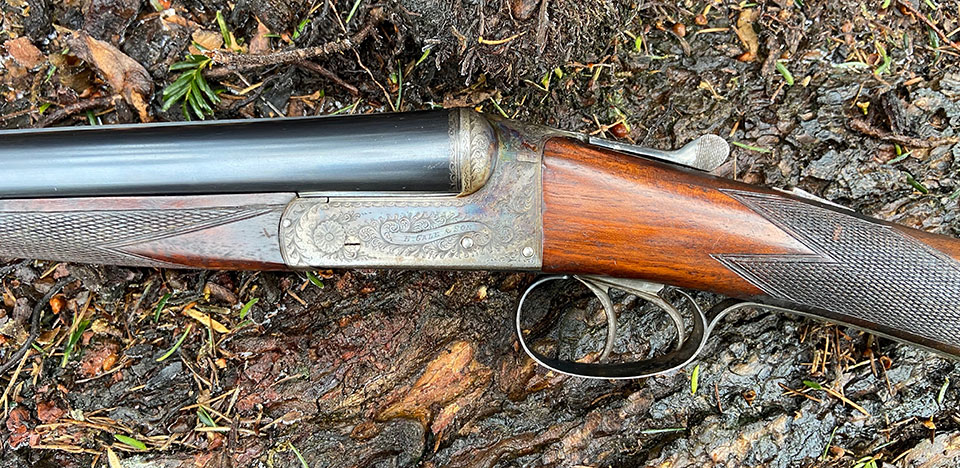 However, size is something shooting men often discuss with great interest, while leaning on a Land Rover mid-morning. Some men are convinced that success with the birds is all about length and power, others will contend with equal passion that it is all about skill and technique. It is not a new debate, sportsmen have been comparing the pros and cons of big and small packages for generations.
I have normally done quite well with two and a half inches, which most Englishmen in the gun trade considered adequate for a century before the trend for bigger stuff arrived in the 1980s, largely because the Italians and Americans generally packed larger.
Now, two and three quarter inches is the expectation and anything less seen as a disappointment. A three-incher is still a rarity in most parties, being reserved for tackling big birds or for when the ejceta is required to travel long distances before spraying is victim.
So, it was with a little trepidation that I headed out to engage some late season screamers, packing just two inches.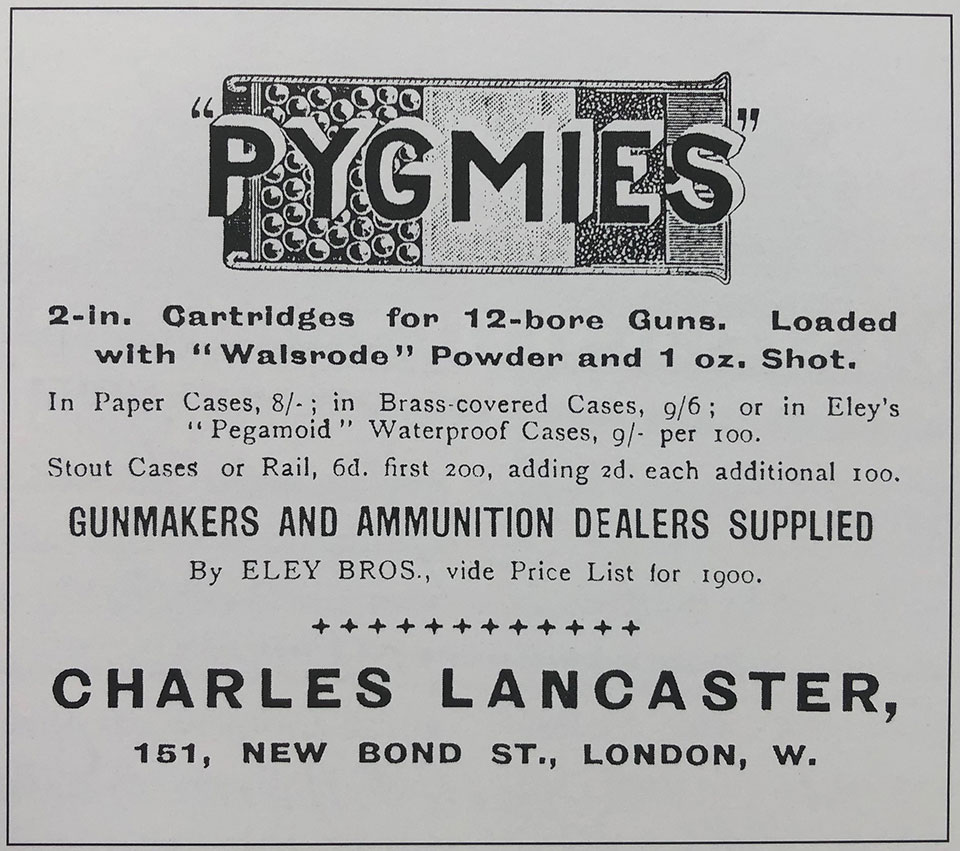 The name on my little package was 'Gale' but the king of the two incher in the 1930s was Charles Hellis of Edgware Road, London. We can, in fact, trace it all the way back to Charles Lancaster and his 'Pygmie' cartridges, where it all started. They encountered some reliability problems by by the time the concept re-surfaced these had been ironed out.
The background to the interest in the two-inch cartridge was the fear of putting a 20-bore cartridge in a 12-bore and blowing it up. Some people thought, reasonably, that the safest means of avoiding this was to not have any 20-bore cartridges in the house. The two-inch cartridge allowed a 20-bore load to be packed into a 12-bore case and fired in a lightweight gun, closer to 20-bore in characteristics and suitable for the young, small or infirm to use, when a full-size 12-bore was uncomfortable.
Hellis published a booklet in the mid 1930s calling the Two-Inch 12-bore 'The Gun of Today & the Future'. He extolled the virtues of light, short barrelled guns (this was the heyday of Robert Churchill's successful campaign with his XXV models and this type of gun as vey much in Vogue).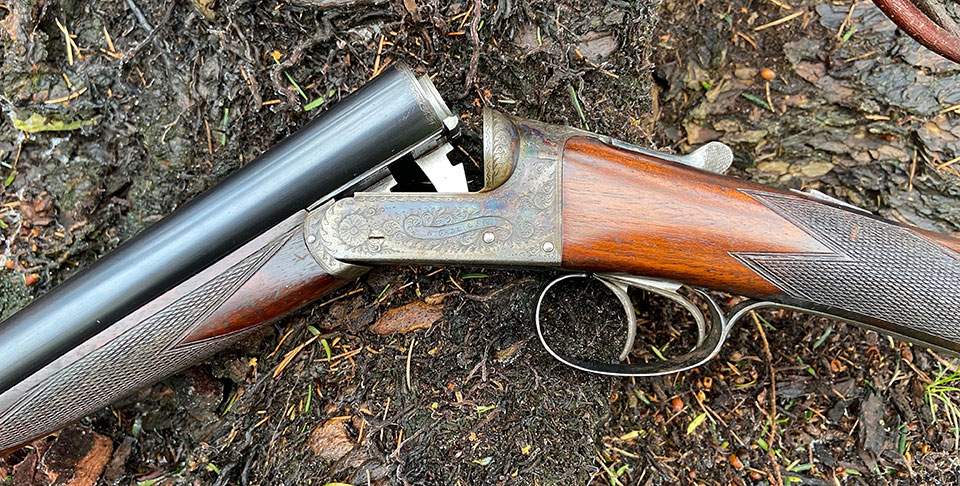 As well as advocating the advantage of light weight and short barrels for older sportsmen, claiming a 6 lb 12-bore was much faster and more comfortable to shoot than a 7lb version, Hellis underlined the safety aspect of not mixing cartridges witha 20-bore but also the advantages of the gun outwardly having the familiar dimensions of a 12-bore so making the transition for a youth learning with a 2" 12-bore easier when moving up to a full size gun of the same gauge.
Hellis claimed his 2" 12-bore "shoots as hard as a full 12-bore at all ordinary range, kills clean, without wounding and does all or more than a Twenty or Sixteen will".
A 'better quality' model cost £35 and weighed 5lbs 4oz. Most of these Two-Inch 12-bores appear to have been made for the retailers, like Hellis, by Skimin & Wood, in Birmingham, who were in business from 1920 until 1974. They specialised in building Two-Inch chambered guns, primarily for the trade, listing their first in 1930.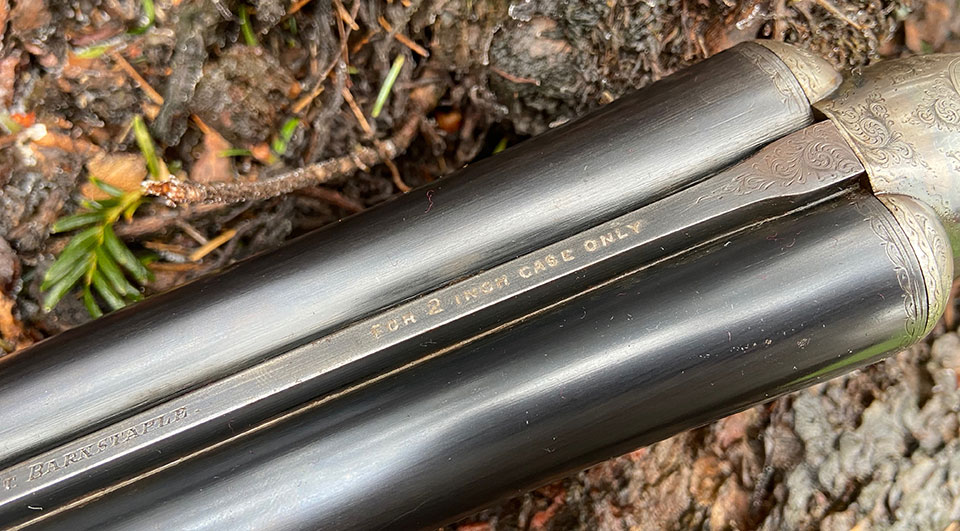 The example I have, styled 'E. Gale & Son' of Barnstaple, Devon, probably came from the same stable. Gale's business started in Barnstaple, in 1869 as 'George Gale', becoming 'Edward Gale' in 1906 and 'Edward Gale & Son' in 1938.
Clearly made for a child, the gun now sports a well-matched wood extension of two inches and has 26" barrels with Churchill rib. At 5lbs 3oz, even with the extra wood, it weighs an ounce less than Hellis advertised his guns at.
Weight distribution feels comfortable and the gun is lively without feeling whippy, no-doubt aided by the short barrels.
It has all the well-settled characteristics of teh time - Soughgate ejectors, acnventional Anson & Deeley type boxlock action, with teh cocking dog retaiing screws familiar to users of Webley & Scott model 700s. The slim breech with ball fences blends into a rounded action top, leading down the top lever, to teh satety slide. It all looks and feels well thought-out and competently filed-up. A nice quality, tugh certainly not a best quality gun.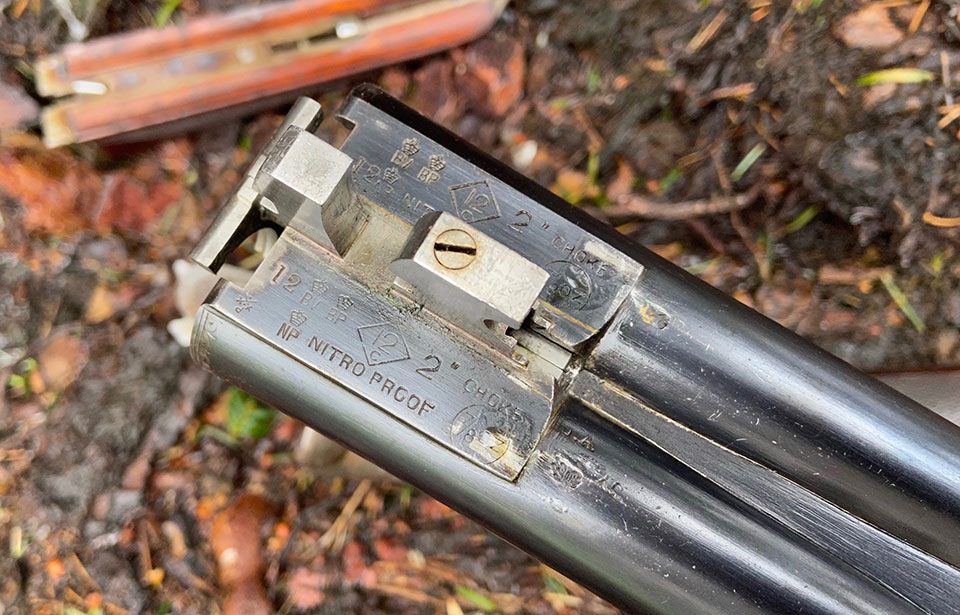 The scroll engraving is better than average and the case colours are almost 100% retained. Chequer is original, flat top and neatly executed with perfect borders. Wood is nicely coloured but fairly plain. It is a handsome gun that any teenage boy would have been proud to own and use. It is presented in its lightweight leather compact case with cleaning rods, Gale-branded snap-caps and Hawksley oil-bottle. The maroon baize lining is in good condition , as is the leather.
The barrel flats bear post-1925 Birmingham proof marks for nitro and are stamped 2". Both barrels are choked. The blacking is dull and matted and the platinum inlay stating 'For 2" case only" is in need of tidying up, which I will do when I have the barrels polished and best blacked.
Surprisingly, Two-Inch cartridges are still available. I ordered a slab from justcartridges.com and they arrived just in time to make the last day of the season. I decided to give the Gale a try and see how it (and I) coped with the task. The previous week I had been using an 1873, 7lb, 30" barrelled, William Powell hammer 12-bore with lift-up top lever. So, quite a change!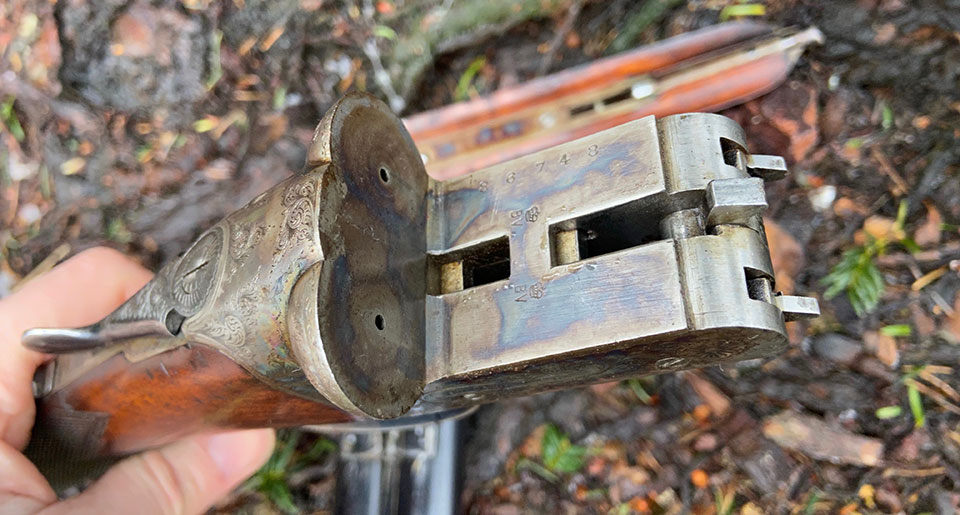 The Eley 2" cartridges currently available pack a 25g load and are notably punchy in a light gun. They are certainly effective but, for what you gain in lightness of portability and speed onto your target, you pay for with felt recoil. It can be contained by holding the gun firmly - which, after the first shot you naturally will!
The Gale is the first Two-Inch gun I have owned. Typically, I'm expecting a pair, by Hellis, to arrive later this month!
Published by Vintage Guns Ltd on