Two of the most highly valued points of reference in British gunmaking are name and address. While a little-known maker operating in a distant town could, and did, produce guns of the highest order when commissioned to do so, most of the top-tier makers in mid-Victorian Britain, with names known by all the keen sportsmen of the day, had London addresses.
The name Purdey is synonymous with the finest guns; in the 1860s, James Purdey was just one of several London makers with equally well-earned reputations. These included James Woodward, Thomas Boss, Harris Holland, John Blanch, Edward Reilly, and Joseph Lang, but there were others as well. 


At the very beginning of the pin-fire era in the 1850s and early 1860s, simply offering high-quality breech-loading guns placed gunmakers in the forefront of their field. After some time, this distinction would have lost its novelty, and gunmakers needed other means to remain competitive.
Inventing and building proprietary patents attracted the attention of sportsmen and raised the estimation of the maker's wares above others, at least until something better came along. A long and storied history would also be helpful in terms of reputation, and a prestigious London address would provide access to well-heeled patrons. Claiming the custom of important persons was one of the most powerful tools in advertising, better still if there was a royal connection.
One would think that a firm encompassing all of these traits would be among the best known today, yet, surprisingly, little is known or written about Parker, Field & Sons, and even less on their sporting guns. Surviving pieces show off the high quality of their flint and percussion pistols and sporting guns, but very little is known of their pin-fire game guns.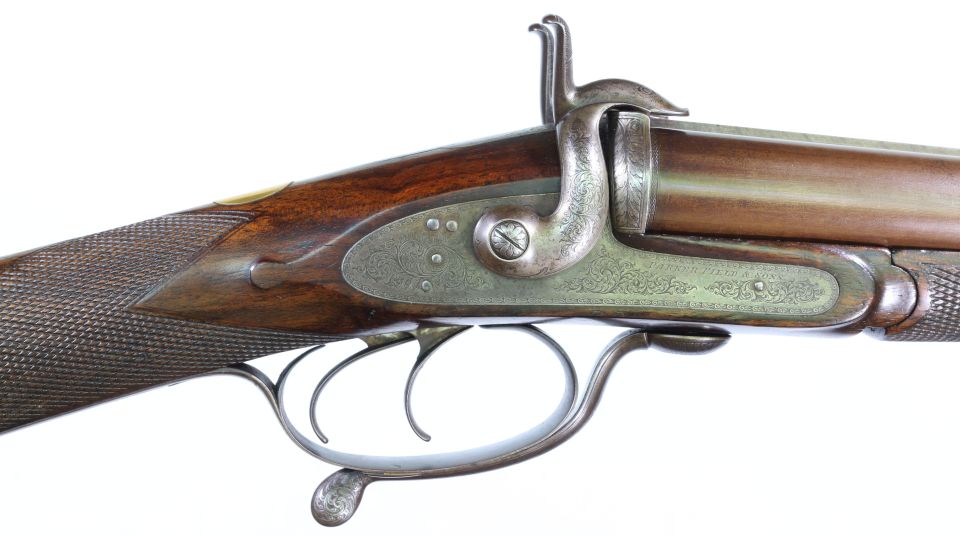 The origins of the business started with John Field, who had been a goldsmith, sword cutler and gun maker at 233 High Holborn from 1783 to 1791. He traded under his name and also as Field & Co and Field & Clarke. When John died in 1791, William Parker went into partnership with his widow, and they traded as Field & Parker. In about 1814, William's daughter, Mary, married John Field Junior.
William became gun maker to Prince Edward, Duke of Kent and Strathearn (the future Queen Victoria's father), then to King William IV.

 When William died in 1841, John Field Junior and his sons John William Parker Field and William Shakespeare Field started trading as Parker, Field & Sons.

In 1850 John Field Junior died, and his sons took over the business. JWP Field was an accomplished rifle shooter; he was Instructor to the Honourable Artillery Company from 1866 to 1879 and Captain of the English Twenty shooting team. At some point, Parker, Field & Sons received the greatest accolade, becoming gunmaker to Her Majesty Queen Victoria, a recognition the firm made good use of in their case labels and advertisements.
William Shakespeare Field died in 1875, and John William Parker Field continued running the firm until he died in 1879. The firm ceased business in 1886 after just over 100 years in the trade. As to the address, High Holborn street was central and very well located; Charles Dickens lived on High Holborn for a while, as did William Morris, the influential designer and promoter of the Arts and Crafts movement.
 

Though it produced martial, trade, and sporting arms, the firm of Parker, Field & Sons is probably best known for its military contracts. It supplied arms to the Honourable East India Company, trade guns to the Hudson's Bay and North West Companies, and military Enfield muskets to both sides in the American Civil War.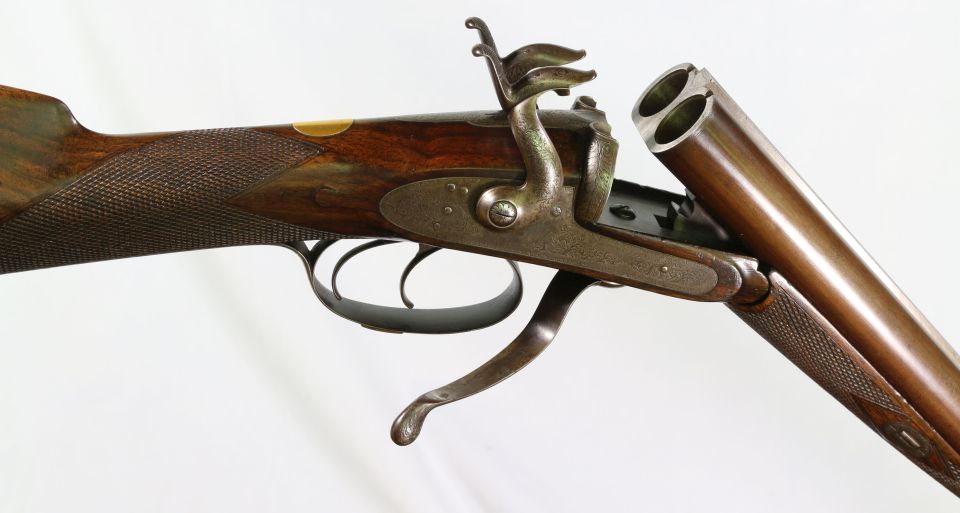 The firm also provided police forces with pistols, truncheons, tipstaffs, cutlasses, handcuffs, wrist shackles and leg irons, and "all articles used by police." Parker, Field & Sons exhibited their guns and assorted wares at the Great Exhibition in London in 1851, where Casimir Lefaucheux first demonstrated his pin-fire invention to the British public.

At least three types of pin-fire game guns are known to have been made by Parker, Field & Sons: the Joseph Lang-type forward-underlever with a single bite and a rising stud for assisted opening; a similar single-bite action but with a rear-facing underlever; and an elegant bar-in-wood partial snap-action gun.
The latter is shown here, a lovely gun amongst the first to exhibit the bar-in-wood construction in an attempt to hide the hinge, or at least minimize the visual differences between muzzle-loaders and the early breech-loaders. It is a 12-bore, with the serial number 10567. The top rib is signed 'Parker Field & Sons Makers to her Majesty 233 Holborn London' in cursive and 'Field's Patent' within a decorative scroll.
The same 'Field's Patent' marking is present on the sculpted underlever. The 30" damascus barrels have London proofs and bear the Field stamp and the barrel maker's mark 'R.W.,' possibly Robert Wall of 9 Little Compton St., Soho (1864-65). The single-bite partial snap-action rotary underlever action is John William Parker Field's patent No. 3485 of December 1862.
It is only a partial snap-action; the underlever is only partially under spring tension, and it has to be closed by hand.
 
The slender bar action locks are signed 'Parker Field & Sons.' The rounded hammers have dolphin-headed noses, and the thin percussion fences are decorated with acanthus spray engraving. The figured stock has drop points, a feature not commonly found at the time.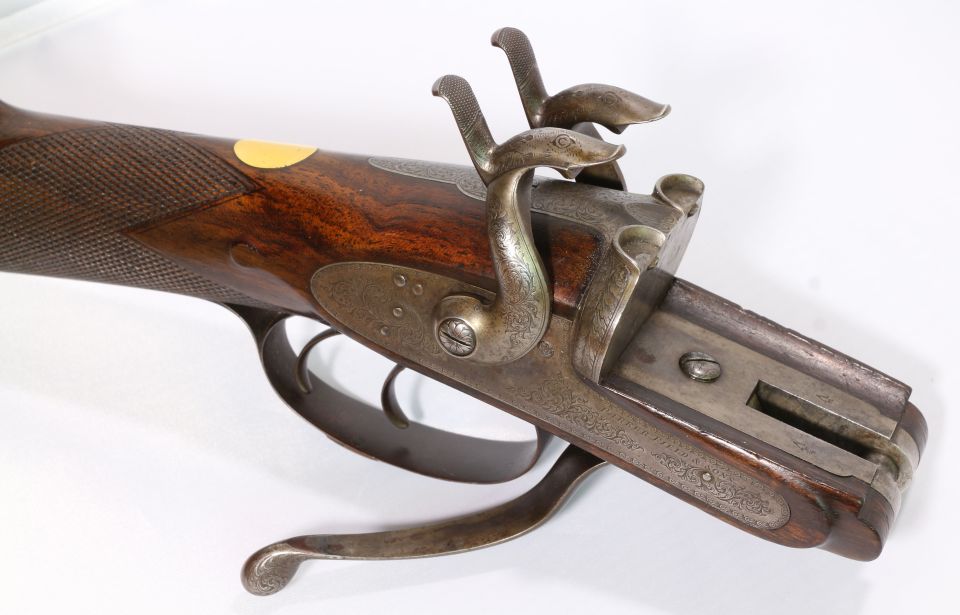 The foliate scroll engraving is typical, and the vacant monogram escutcheon on the top wrist is gold, not the usual silver. The gun weighs a tidy 6 lb 15 oz., and the bores are still mirror-bright. The gun still has its original leather-covered case, though it is in poor condition, and the label is darkly stained.
 

No Parker, Field & Sons records survive, so it is impossible to date the gun precisely, nor is it possible to know who commissioned it. Still, from known serial numbers, the patent date, and the barrel maker's mark, one can reasonably assume a build date of about 1865.
From surviving guns, it seems that the firm of Parker, Field & Sons was still making percussion guns and even flintlocks at that time, confirming that a maker would make anything the client desired.

by Stephen Nash
NOTES: 
I wish to acknowledge the Internet Gun Club for graciously allowing the use of information from their extensive historical database.


Published by Vintage Guns Ltd on