Conversions are nothing new in the history of sporting guns. Many flint-lock muzzle-loaders were converted to the percussion system, and many breech-loading guns originally built as pin-fires were converted to the centre-fire cartridge.
The amount of skilled work required to undertake such conversions is considerable. The result may be so good as to surprise some modern owners of vintage doubles upon realizing their guns have had previous lives. But muzzle-loader-to-muzzle-loader and breech-loader-to-breech-loader conversions are not the only ones to have been performed.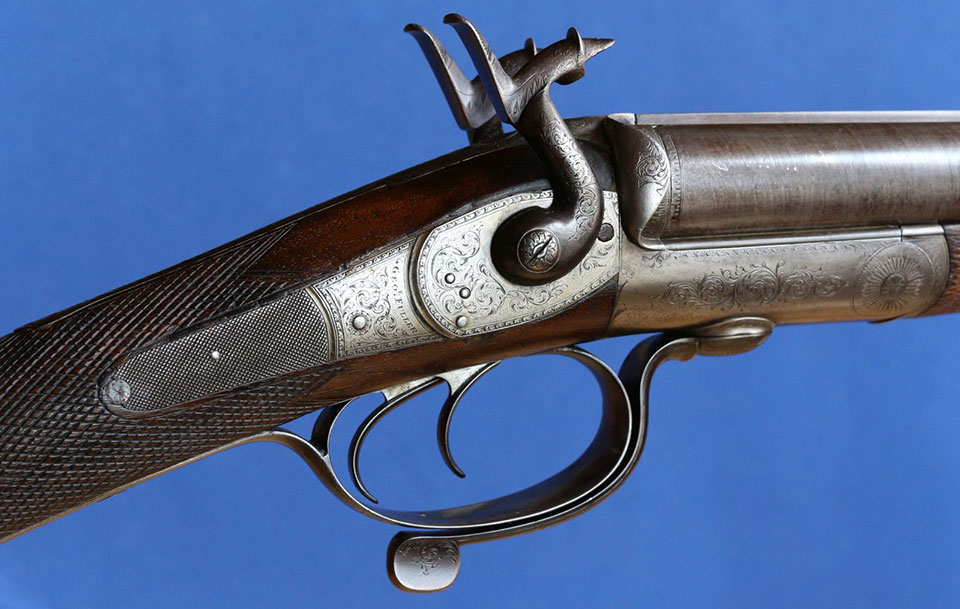 With the appearance of the pin-fire system in Britain in the 1850s and 1860s came the requests to gunmakers to prolong the lives of muzzle-loading guns by converting them to the new breech-loading system. 
 
There were several ways to accomplish this, depending on how much of the original gun could be salvaged.
One approach involved cutting the barrels at the breech plugs, chambering them for cartridges, and fitting them with fastening lumps; locks were fitted with new hammers, stocks and some stock furniture were retained, and an action and removable fore-end fitted. In this way, much of the conversion cost would be manpower, and some gunmakers specialized in such work. Another approach would be to build a new gun around a favoured barrel. Before the days of choke, a barrel that shot well and true was highly prized, and muzzle-loaders were often believed, rightly or wrongly, to shoot better than the early breech-loaders.
Someone who did not want to lose the patterning quality of their muzzle-loader would ask a gunmaker to build a new breech-loader around that barrel. Finally, a third approach used by some makers was to build new guns using returned and unsold stock as source material. All of these approaches offered savings over an entirely new breech-loader, the cost of which could be prohibitive to many sportsmen. Here are three guns that illustrate the skill and ingenuity of such conversions.



George Fuller was born in 1793 in West Ham, Stratford, London. He started his gun-making business in 1832, after working for or serving an apprenticeship under the great Joseph Manton. In 1845 he was recorded in business at 104 Wardour Street, Soho, where it appears he shared premises with John Evans & Son, Engine Lathe and Tool Manufactory (a supplier of percussion cap-making machines). George Fuller moved to 30 Southampton Street in 1846, with additional premises in Maiden Lane, and his son, William Charles, joined him in the business.
In 1853 he took over the business of Joseph Wilbraham at 280 Strand, with additional premises at 404 Strand. George Fuller's trade labels from 1857 to 1861 stated "Gunmaker to H R H The Prince Consort," so he was a London gunmaker of reputation and quality. 
 
In the first volume of British Gunmakers, Nigel Brown provides information on three George Fuller guns, with numbers 368 and 383 from the 1850s and gun number 1068 dating from the 1860s to 1871. Here is a fourth, number 245, converted from muzzle-loading to pin-fire. On the face of it, it is a standard-looking double-bite screw grip rotary under-lever pin-fire sporting gun of typical form. Look more closely, and there is much, much more going on.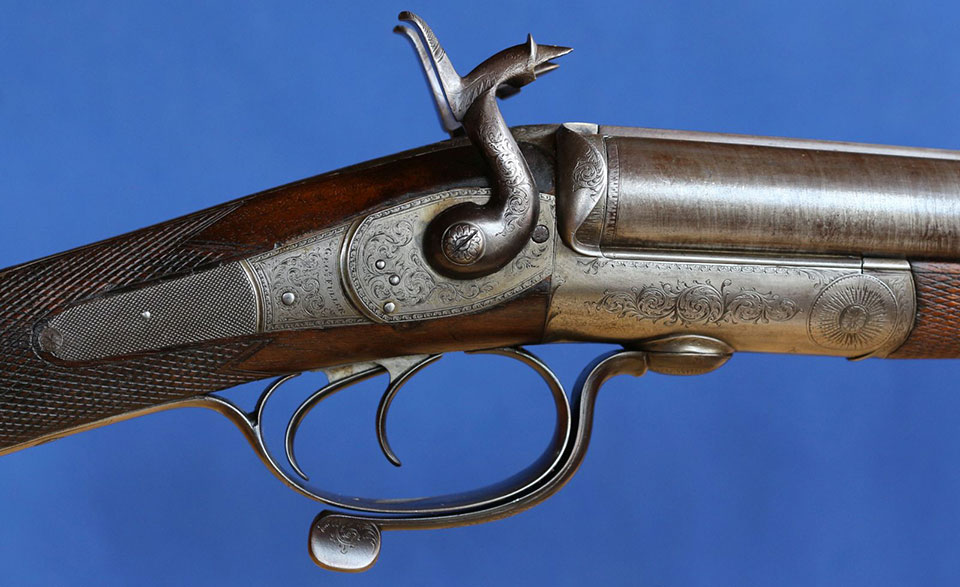 The shortened 26 1/2" twist barrels have London proofs, and the early-style wide top rib is signed "Geo. Fuller. 10. Wardour St. Soho. London." Already this poses a problem, as Fuller is not recorded at that address. There is a gap in knowledge for the period between 1841 and 1845, and he could have set up at number 10 before sharing premises with Evans at number 104 – but that's just a guess. Number 10 is close to Leicester Square and is a much more exclusive location. Perhaps it proved to be too expensive to maintain, considering his following address was a shared occupancy with a machine tool business. The magnificent stepped back-action locks are signed "Geo. E Fuller", with acanthus engraving and the tails of the plates flawlessly chequered.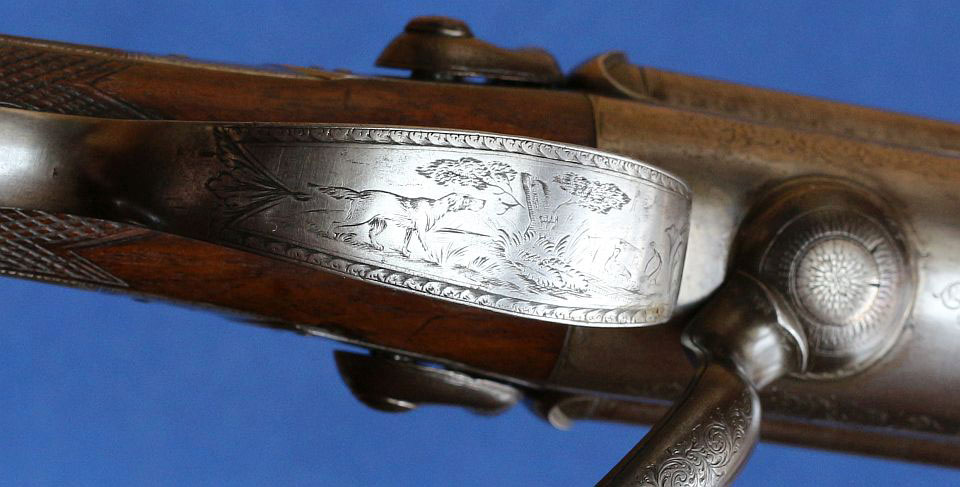 I don't know how widespread such lockplates were. Still, I have noted similarly 'stepped' back-action lockplates on percussion sporting guns by Thomas Reynolds, who either apprenticed with or worked for, Joseph Manton, a fact that might further connect Fuller to Manton. The trigger guard bow has a worn game scene engraving, though, in its current configuration, the under-lever covers the scene. The iron heel plate has an extended tang and another indistinct game scene. There is an abrupt mismatch in border engraving where the lockplates abut the breech, suggesting slightly cut lockplates (it may have been initially an 'island' lock).
The style of engraving on the action body and the top strap does not match the wear and style of engraving on the lockplates, trigger guard and butt plate tang, with the latter parts exhibiting more wear. As a conversion, the action is attractive, with percussion-style fences, an extended upper tang, a marked radius between the vertical breech face and horizontal action bar, a handsome under-lever, and nicely shaped hammers. The twist construction of the barrels, their shortened length and wide sighting rib, the trimmed lockplates, the mismatched engraving styles, a game scene covered by the under-lever, an 1840s-era serial number, early styles such as an extended butt tang, and a Wardour St. address all point to the conclusion this gun began as a George Fuller muzzle-loader. It was converted to the pin-fire system by Fuller, or someone else with considerable skill.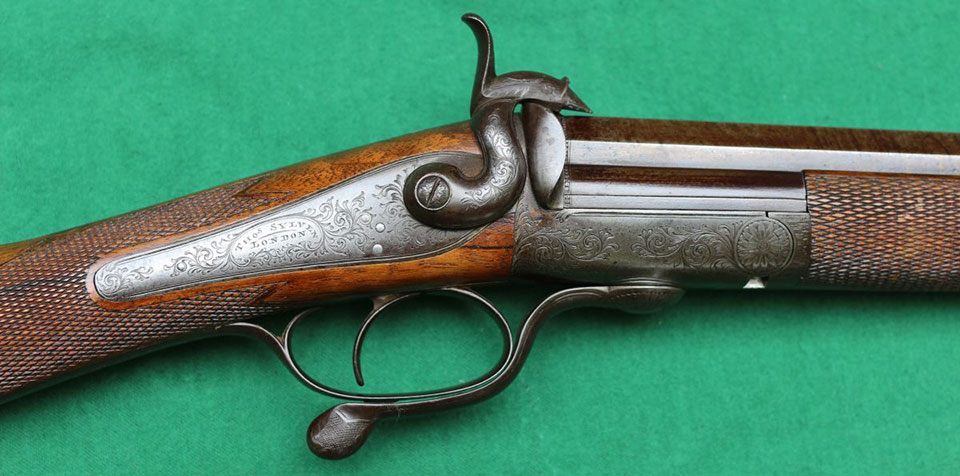 Some gunmakers specialized in conversions, one of these being Thomas George Sylven of London. He had begun as a journeyman gunsmith in Scotland, making guns for established makers. He set up his own business in London in 1863, at 33 Leicester Square and 10 Panton Street, Haymarket, and later moving to 44 Bedford Street, Strand, in 1865.
Around this time, he built gun number 399 for a client who wanted to re-use the barrel of a muzzle-loading gun made by Richard Seffens, a gunmaker who was in business at 5 St James, Haymarket, from 1820 to 1825, and at 10 Orange St, Leicester Square, between 1826 and 1829. Perhaps that gun had sentimental value or was just a fine-shooting gun – in any case, the client wanted to extend the life of the gun while following the latest fashion. The result is quite balanced, and other than the classic shaping of the barrel base and the inscribed top barrel flat, you wouldn't know it was a conversion. 
 


The barrel is 29 13/16" in length, and the action is an unmarked Jones-type double-bite screw grip. It has several attractive flourishes, with a prominent percussion fence, an extended top strap, and a toed-in 'dolphin' hammer nose with a stylized cap guard. The back-action lock is signed "Thos Sylven London" within an acanthus cartouche.
The butt has a skeleton plate, a feature commonplace on later guns but very uncommon on a pin-fire. Contrary to muzzle-loaders, pin-fires did not have to be held with the butt on the ground for loading. Muzzle-loaders had iron butt plates to protect the stock during this procedure, and this characteristic feature was carried over, unnecessarily, into most pin-fire guns. In the 1860s, some makers started experimenting with wood butts (either chequered or plain), heel-and-toe caps, skeleton plates, and horn plates, features commonly encountered from the 1870s onwards.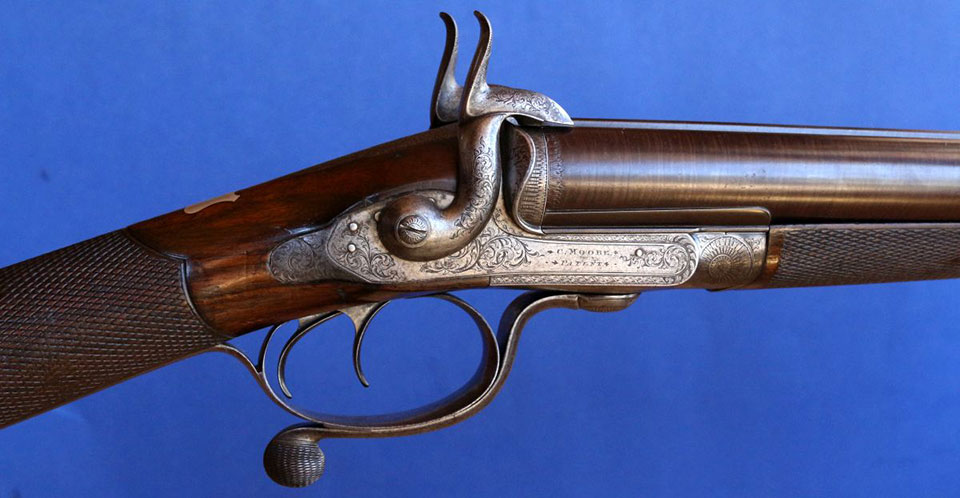 Charles Moore was the son of William Moore, a well-known gunmaker. Charles was appointed furbisher to St. James Palace and Hampton Court in 1829 and as gunmaker to William IV in 1836. In 1827 James Woodward joined the firm as an apprentice. He later became head finisher, and in 1843 James was made a partner, and the firm started to trade as Moore & Woodward at 64 St James's Street.
Charles Moore died in 1848, and in 1851 Woodward changed the firm's name to James Woodward. 
 
The gun pictured here is a 10-bore pin-fire by James Woodward, apparently converted from a Charles Moore percussion pellet-lock gun. The 30 11/16" twist barrels have a wide top rib signed "James Woodward 64 St. James Street London", and the duck's-head bar-action locks are marked "C. Moore Patent."
In 1827 Charles Moore invented the isolated or 'bar-in-wood' lock. He used these locks on his pellet-lock guns, which pre-date the copper percussion cap. The words "C. Moore Patent" on the lockplates might refer to patent No. 4611 granted to William Westley Richards for the pellet-lock in 1821, as Moore was building his guns to this patent. It appears the gun was re-built by Woodward using Moore isolated locks fitted and adapted to a breech-loading action, perhaps taken from existing stock, or a gun returned to the makers.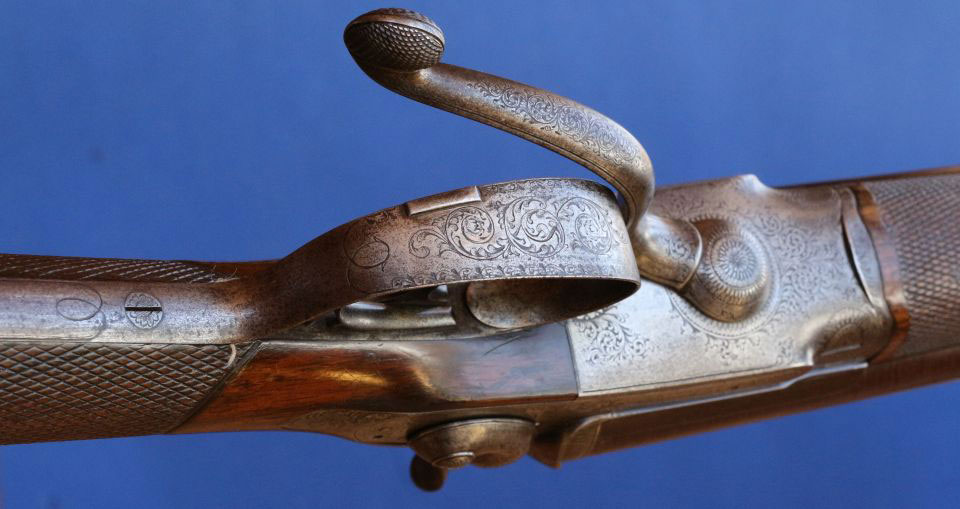 Another clue is the style of engraving on the locks is different with a more open foliate design, rather than the tighter scroll elsewhere on the gun. 
 
All three guns started as muzzle-loaders or as parts from a muzzle-loader, only to continue in the field as pin-fire breech-loaders. The conversion process on these guns ended there, though they could have gone on to the next big thing, the centre-fire cartridge!
 
I wish to acknowledge the Internet Gun Club for graciously allowing the use of information from their extensive historical database.
Words and photographs by Stephen Nash

Published by Vintage Guns Ltd on (modified )