London gunmaker John Rigby & Co. launched a new publication this week. It is the first result of the Rigby Dagga Boy Project.
The concept behind the book is 'age over inches'; it encourages sportsmen to appreciate the character and beauty of the gnarled, battered and broken horns of the truly ancient buffalo as trophies of the first order, rather than seeking size and a place in the record books.
Entrants (either hunter or PH) were asked to submit their photographs and hunt stories. These were judged by a panel including Dr. Kevin Robertson and professional hunter Robin Hurt. The information will be collated and become part of a study into the ages and characteristics of bulls in different regions.
it doesn't make sense to hunt the most beautiful buffalo
Managing director Marc Newton said, "From an ecological and ethical point of view, it doesn't make sense to hunt the most beautiful buffalo in the prime of their life." The Dagga Boy Project seeks to encourage a focus on, "those in the winter of their lives that have survived countless predators and are past breeding age".
The first volume is 257 pages of photographs and text reliving the hunts of a lifetime for many of the writers. Each one featuring a quest to track and shoot an ancient dagga boy.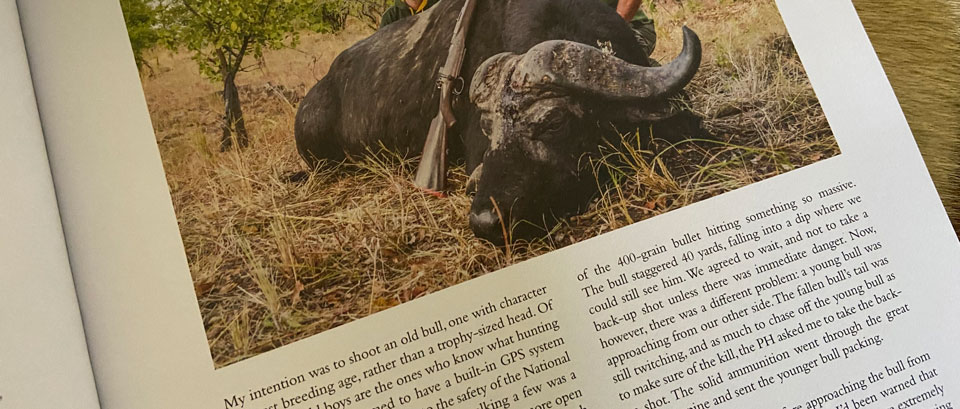 These grand old beasts are approaching the moment that their ability to maintain weight and condition has passed. It is then only a matter of waiting until the lions or hyenas bring their lives to a bloody and traumatic end, as they lose the ability to fight or flee.
The last battle of each of these battered old boys was one with a conservation-minded hunter who truly appreciates the value of the hunt in terms of personal experience and contribution to the conservation efforts of the concession in which they hunt. Hopefully, the demise of each of these old warriors will help ensure the ongoing viability of the species, the habitat and the balance betwen human and animal welfare in wild Africa.
a Rigby .416 'Big Game' magazine rifle for the hunter.
Dagga Boy Vol.1 is available from John Rigby & Co. in a strictly limited run of one thousand copies. Entries are now invited for Dagga Boy Vol.2. They should be submitted to: daggaboy@johnrigbyandco.com
Entries must be for bull buffalo which are wild and free ranging from self-sustaining herds, hunted in an ethical, fair chase, walk and stalk manner. Judging criteria are available in full on Page 29 of Dagga Boy Vol.1 and judging will be undertaken by Marc Newton, Dr. Kevin Robertson, Buzz Charlton (PH) and Robin Hurt (PH).
The prize, presented by Marc Newton, will be a Rigby .416 'Big Game' magazine rifle for the hunter. The PH accompanying the hunter will receive a Rigby .450 'PH Model' magazine rifle. Presentation of prizes will take place at Dallas Safari Club.
In launching the Dagga Boy Project, Rigby is aiming to create "a cultural shift in how trophy hunting is approached". Twenty-first century hunters should, and do, generally, appreciate their place in a changing landscape and focus their efforts and their dollars towards pursuits that are transparently ethical and beneficial to the places, people and species they encounter where they hunt.

Published by Vintage Guns Ltd on