The term 'Paradox', indicating two facts that appear contradictory, yet are true, is apt for the invention of Col. G.V. Fosbery; for what he created was a shotgun that was also a rifle.
Fosbery was a distinguished soldier (winning the Victoria Cross) and a prolific inventor (with patents concerning breech-loading rifles, revolvers and machine guns among his inventory of ideas). However, he is best known today as the inventor of the 'Paradox', made and marketed by Holland & Holland.
Col. Fosbery lodged the patent on 27th August 1885 and then approached Holland & Holland with his single-barrel prototype and the intention to do a deal. The first double Paradox was made as an experimental model for further development and given the number 8803 by Holland & Holland in the autumn of 1885.
Holland & Holland agreed to pay Col. Fosbery the hefty sum of one guinea per barrel for every Paradox sold. The trade mark for the name 'Paradox' was granted on 6th October 1886 and was thereafter steadfastly protected by the firm.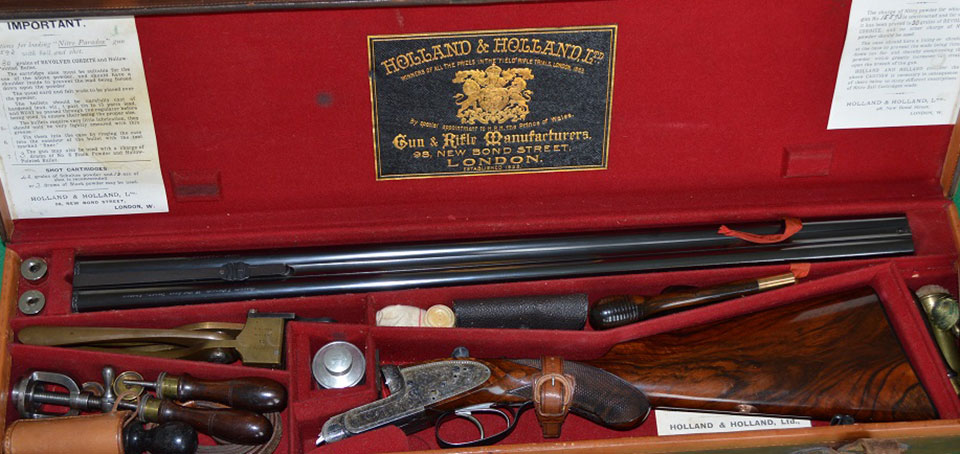 The 'Paradox was presented for testing and reported in The Field on 24th April 1886. The results showed 1 3/4oz conical bullets grouping within a 7 1/4" x 3 3/3" square at 100 yards. With shot it put 193 pellets from a 1 1/8ox cartridge into a 30" circle at 40 yards.
The press was satisfied that the new gun/rifle was a winner and further trials cemented its reputation. It provided the long sought after solution for the 'one gun traveller' in performing the duties of both shotgun and rifle. It became very popular in India, where it could be employed for jungle fowl or duck shoots and then be applied to dispatching a tiger, if necessary.
These early trials were, of course, carried out with black powder. It was the proliferation of nitro-cellulose 'smokeless' powders in the 1890s that eventually led to the creation of the first 'Nitro Paradox', which arrived relatively late, in 1903.
Roger Lake and David Baker's excellent book on the Paradox, published in 2010, indicates Holland & Holland number 15646 was the first Nitro Paradox, describing it as a 'border engraved No.3 non-ejector with standard black powder rifling.'
This was demonstrated to the editor of The Field on 8th August 1903. Using such a low grade weapon for development makes perfect sense but an earlier serial numbered Nitro Paradox has since emerged.
this was the first Nitro Paradox actually sold to a customer
Holland & Holland 15593 was finished in the factory in London on 4th November 1903 and is described in the ledger as an 'extra best 12-bore Royal'. It seems reasonable to conclude that this was the first Nitro Paradox actually sold to a customer.
This Nitro Paradox is now in a private collection in the United States and remains in largely original condition, showing very little use. It is still housed in its original case and has a full complement of loading accessories, labels and instructions.
Instructions, placed inside the case or pasted to the case lid were common in those days of prolific invention, when new mechanisms, different powders and infinite load varieties had to be studied in order that mistakes not be made and damage done to gun or operator.
The label 'Instructions for loading Nitro Paradox gun 15593 with ball and shot'. is illuminating and indicative of its age.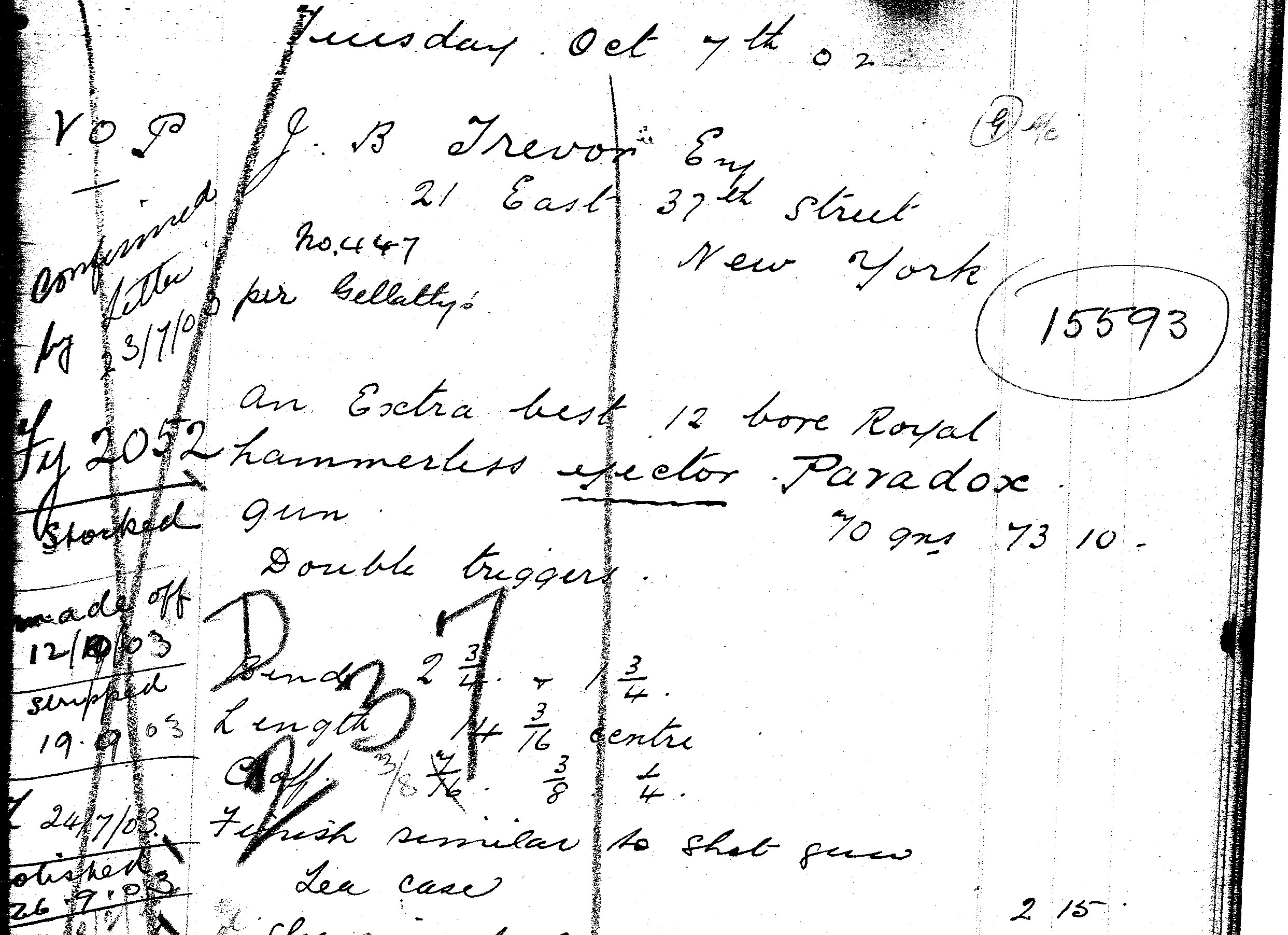 It specifies a load of 30 grains of Revolver Cordite (5 grains more than the loads developed in the test the Nitro Paradox, according to Baker & Lake). It also gives black powder alternatives, which would have been sensible as black powder was still widely available and a traveller may not always have access to his preferred powder when abroad. The suggestion is 3 drams of No.6 black powder.
For shot cartridges, 42 grains of Schultze (smokeless) powder is specified and 1 1/8oz (32grams) of shot. For a black powder alternative, 3 drams of black powder is suggested as a substitute for the Cordite.
label stresses the need to stick to the specified loads and to use cases with correctly shouldered bases
A second label stresses the need to stick to the specified loads and to use cases with correctly shouldered bases to prevent inadvertent over-loading.
The loading data is another addition to the existing body of knowledge, as Lake and Baker state 1907 as the first date Holland & Holland started loading 30 grains of Revolver Cordite into their Standard Paradox. The existence of gun number 15593 suggests that 30 grains was being used, at least sometimes, from the very introduction of the Nitro Paradox, in 1903.

It is believed that 51 of these Nitro Paradox guns were produced between 1907 and 1930. The existence of 15593 suggests this number might be suspect in calculating the full contingent of this configuration of Paradox.
The proof marks on 15593 specify a 750 grain bullet, indicate Rifled Choke and show clear, original, London Nitro Proof stamps, as well as specifying Cordite and a shot load of 1 1/8oz. It has not been re-proofed.
One of the most entertaining factors in having an interest in old guns and their history is that from time to time something emerges that throws into question received knowledge. Holland & Holland number 15593 seems to have done just that.
Published by Vintage Guns Ltd on (modified )